By Andrea Cunningham
Story Time: tissues may be needed
In the beginning of July 2019, TFC was contacted by a kind, concerned woman who had a stray cat show up at her house.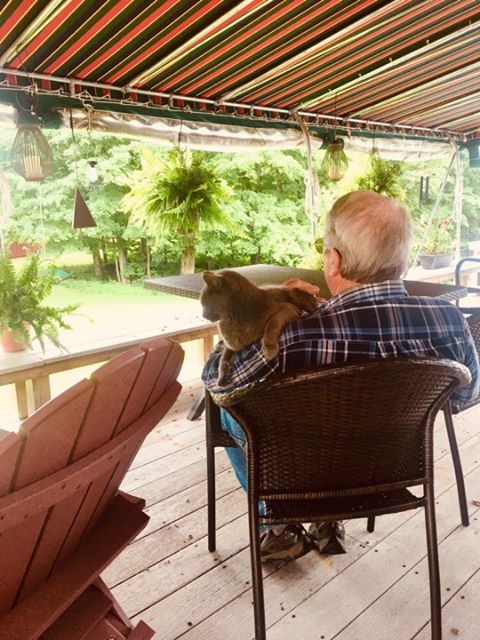 This cat was very friendly and sweet and her new advocate sent pictures to TFC asking for help. One friendly, healthy cat is not too much to take on, (plus we have trouble saying no to any cat in need) so a room was cleared out in a new foster home and the cat delivered by her advocate.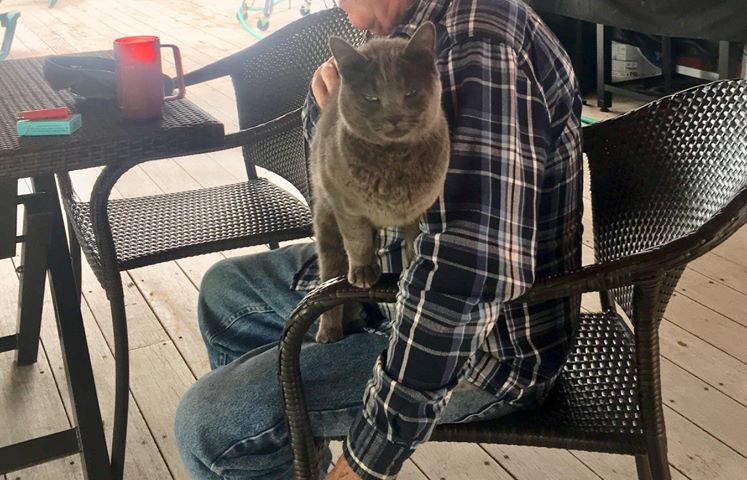 Mel (named for a recently passed away friend of one of our supporters), arrived at her new foster home on July 14th, 2019. Knowing that she was friendly, and had been picked up and put in a carrier with no issues, her new foster mom pulled her from the carrier and brought her into her new room. That's when it happened. Mel had seen a dog (owned by a roommate to the foster mom) and disoriented by her new surroundings, she reacted with aggression. She attacked her new foster mom, not overly viciously but enough to draw some blood. Mel growled and hissed and whipped her tail around, obviously incredibly distressed. This was heartbreaking, both for her advocate and her new foster mom to see.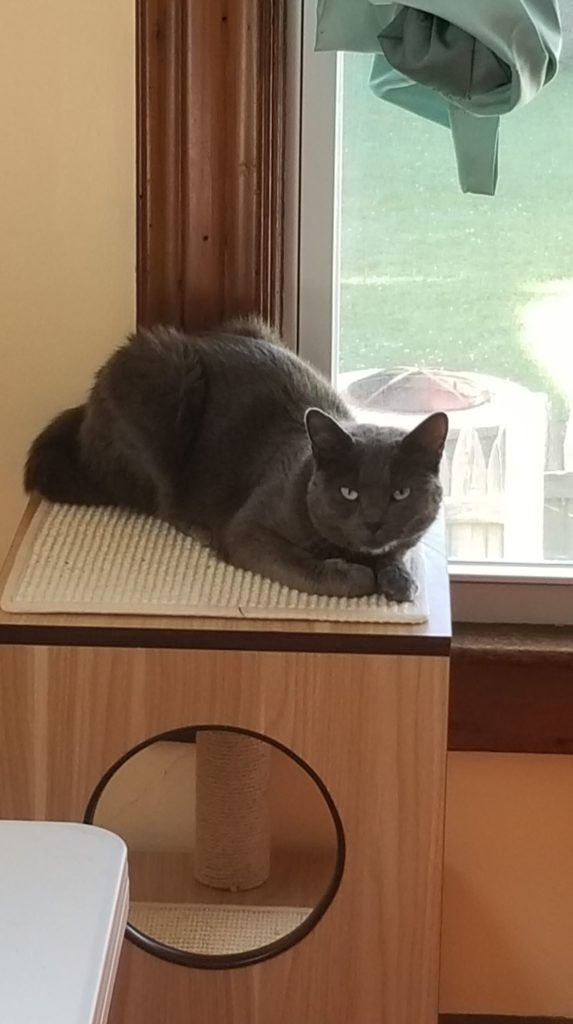 The decision was made that Mel could not be adopted out to a home, as there was no way of knowing if she would ever come back around to being truly friendly (she remained angry and aggressive for weeks in her new home). Mel would go to a barn, where she would be well fed, looked after and have a warm place to sleep. The hope was that if she was outside and felt she could get away from whatever was frightening her that she would not be so aggressive. Her foster mom was broken-hearted that she would not be able to live the life of a pampered house cat.
In early August, Mel was moved to her foster mom's basement to make room for more kitties and to await her transport to her new home. That is when things changed again. Feeling safe away from the room where she had glimpsed the dog, and gaining more trust in her foster mom, Mel transformed back into the sweet girl that her advocate had seen. This broke her foster mom's heart even more, knowing that she would not be living in a house.
TFC was contacted by a woman looking for a solid gray cat (hers had just died tragically). We told her that we didn't have any….except….Mel. The interested woman was told Mel's entire story and her response was: "If she comes up to me, I will take her. I will let her choose me." Mel DID come right up to her, purring and rubbing and generally loving on her.
On August 15th, Mel was taken to her new home.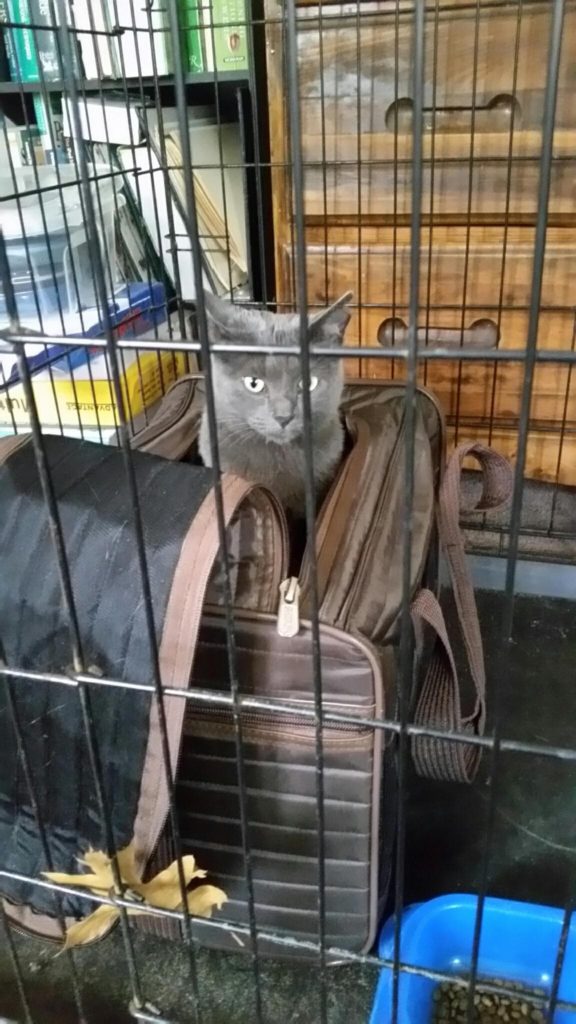 Arrangements were made to keep Mel in a cage at first in her new home to help her feel safe.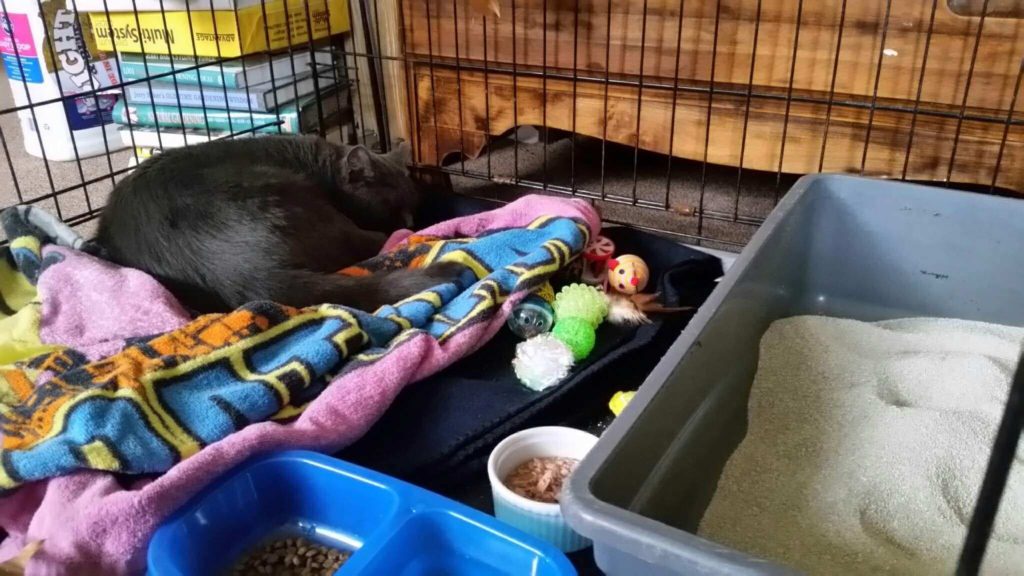 Her foster mom cried when a photo was sent of Mel SLEEPING next to her new mom on the couch. Mel had never been seen sleeping. She was always moving, restless, anxious. Now, she is happy, safe and loved.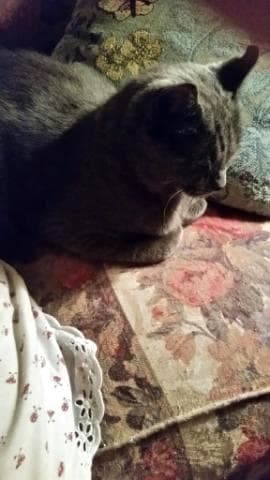 Mel – playtime with the "scary" ice cream cone
This. This is why we do what we do.