Phantom Feline Program
In accordance with The Feline Connection's ambition to facilitate all cats and kittens going on to live their best lives, we have developed an approach for those who are able to live indoors but who may not be trusting of humans. Our Phantom Feline Program provides a way for folks to help these cats and kittens.
What is a Phantom Feline?  A phantom feline is a cat or kitten who, for reasons likely unknown, is very shy, fearful, or distrusting of humans.  It may have had negative or limited experiences with people, but its' special needs and behaviors do not prevent it from living indoors with humans.  They make great working cats!
The cats we refer to as Phantom Felines will live in your home but may rarely be seen, especially by visitors. They are a great choice for quiet homes without children and usually will get along just fine with other cats, even serving as great companions for other furry, family members. A Phantom Feline may or may not warm up to its human caregivers. Some eventually allow a human touch or even choose to cuddle up next to their human on the sofa or in bed. Others will not. There are no guarantees aside from knowing that by being patient and kind, you are making a difference in the life of an animal who did not choose its pathway in life.
If you would like to be one who makes a difference but live a busy life without extra time to devote, a Phantom Feline may be the right choice. Since these cats/kittens do not crave or seek attention from humans, your time is not a concern. They are solely in need of a warm, safe place to live with someone who will provide food, water, and access to any necessary veterinary care.
Phantom Felines from The Feline Connection will come to you having been spayed or neutered and vaccinated against rabies and distemper. They may or may not have an ear notch or be microchipped. Every Phantom Feline is unique. Their personalities range from semi-friendly to independent and most prefer to keep their humans at a distance. That said, you never know when one may surprise you and become your loving companion.
If you are interested in improving a life of a cat or kitten by adding a Phantom Feline to your home, complete an adoption application below today. We look forward to helping you help them.
Interested in giving a cat a loving Forever Home? Apply now by filling out an Adoption Application.
Looking for outdoor barn cats and mousers? Check out The Rescued Squad!
---

Feathered Friends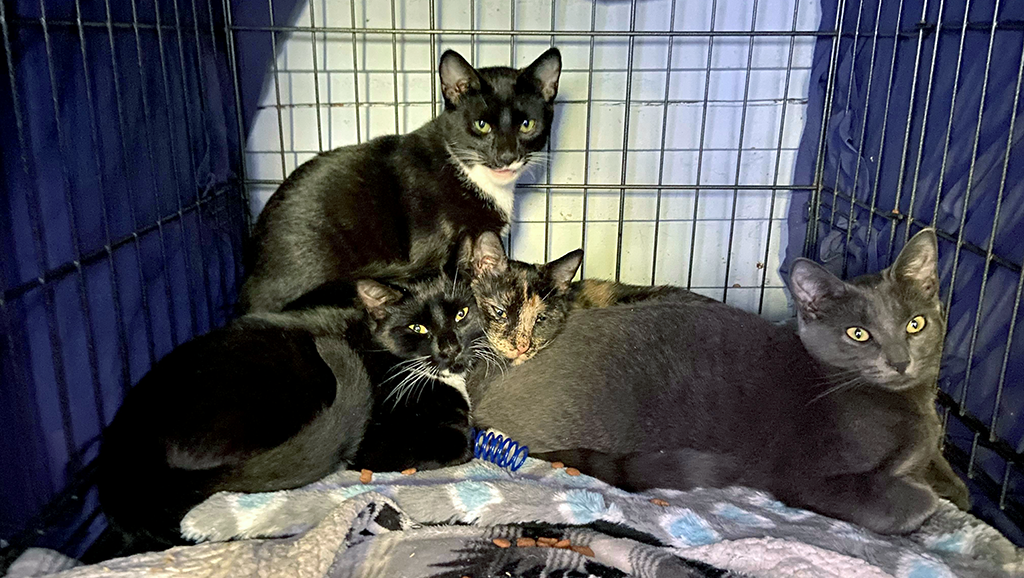 The Feathered Friends have been with The Feline Connection in foster care since last June. They are all sterilized and tested negative for FeLV and FIV. The Feathered friends are also microchipped and have Rabies and their first FeLV vaccines.
These kittens aren't really handlable at this time and will need to be tricked into a carrier or trapped for vet care. Their Foster Family has been able to touch Lark while he is eating–but they are not sure he knows it is happening!
---