*****ADOPTED MARCH 2019




Houdini
I'm all magic, inside and out

POUNCE! Missed! POUNCE! Missed! Leap, front legs wide, claws out….flying….GOT IT! YOU STOLE IT! Oh! There it is! LEAP! Missed! POUNCE! MINE ALL MINE! That was exhausting! Oohhhhh….there's a warm lap. I like warm laps! Jump, circle, make muffins….warm at last! Hey Hooman, could you rub my cheeks? I like you!

Will you play wifs me and giv me luvs? Adopt me now, before I disappear into thin air! Poof!

P.S . I loves Fancy Feast Fish and Shrimp..that is the only soft food I wants!


-Houdini
Houdini, along with 9 other cats, was abandoned by his previous owners at a friend's house after their house was condemned for a gaping hole in the roof. While moving out, he and the rest of the Benson Cat Group were left in a small car for 10 hours in summer heat. He was lucky to survive and is now a bouncing love-ball full of energy! You can read more about his circumstances in a blog on the Benson Cat Group.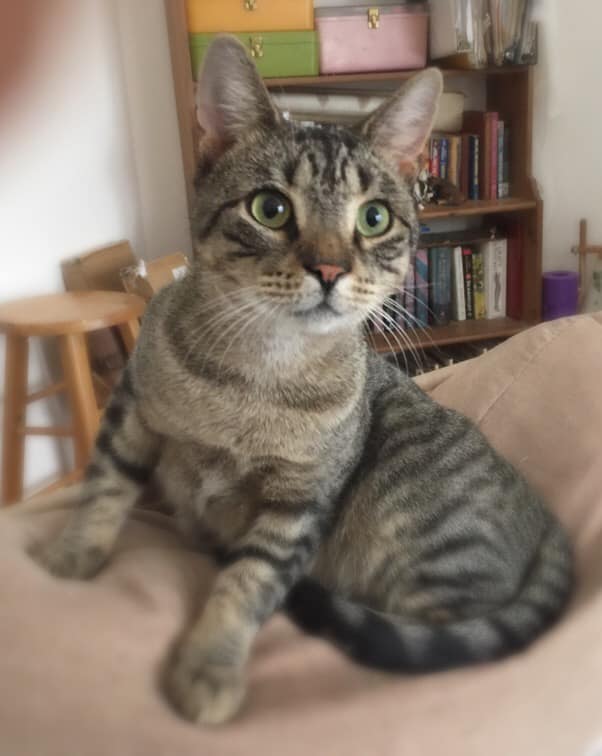 We estimate Houdini was born in the spring of 2017. He is a young man but not a kitten, and is in good health. He is a gray/tan Mackerel Tabby with lively green-and-yellow eyes. While being independent and playful, he also likes to cuddle. He has been neutered, dewormed, and will have FVRCP and Rabies vaccine shots at adoption. He needs an indoor-only home and is good with other cats.

Can't adopt but want to help? The adoption fee does not cover all costs completely, so donations are gratefully received. If you want your donation to go specifically to the Benson Cat Group or Houdini, please email The Feline Connection.