(scroll down for a list of found cats)
Cats and kittens come to us in many ways, and most have an unknowable past. Sometimes, it is apparent that a cat was once loved, and in others it is not apparent. Most times, it is nearly impossible to distinguish a lost cat from one that has been dumped. Either way, it is our goal to secure the best future for every cat whose life we touch. Often, that best future is their reunion with their loving family. In some cases, it is placed with a foster until a new forever family can be found.
In all cases, TFC is diligent in taking important steps to find a cat's lost owners. Those steps include, but are not limited to:
Contacting residents in the location found
Initial intake and microchip scanning
Placing the cat into a temporary foster home for a 14-day "posting period"
Posting the found cat on this website, our Facebook page, and various lost & found sites
Life on the streets and in the wild can be tough, and cats need time to recover both physically and mentally. We examine and start caring for the cat/kitten right away, by providing appropriate shelter, food, human interaction, and initial/emergent care for the cat (flea treatment/dewormer, fecal and blood screenings, etc.)
If the owner of the cat/kitten comes forward or is located, TFC will request proof of ownership through vet records, adoption paperwork, photos, or videos. We may also request reimbursement for our expenses, including:
Routine Expenses
Trapping/recovery: [$35]
Veterinary/medical expenses: [at full cost to The Feline Connection]
Boarding: [$15/day]
With proof in place, and any charges paid, the cat/kitten will be returned to its owner as quickly as possible. Please note that we depend on foster care providers, some of who are located up to an hour away, and same-day return may not be possible in every instance. We promise our best in expediency.
TFC makes every effort to find a cat's rightful owner. However, if not located and the 14-day posting period has been met, TFC will move forward with preparing the cat/kitten for adoption. Once any remaining vetting is complete and the cat is deemed ready to be adopted, it will be posted on our website and in other forums to find the purrfect forever match.
Unfortunately, once adopted it is unlikely that a found cat can be returned to a previous owner. It is for this reason that we urge you to keep a close eye on your pets, keep them indoors/contained, and have them microchipped. Simple steps today can help avoid painful heartache tomorrow.
If your cat is listed below, please use the Contact Us functionality, or message us on Facebook immediately. We want you to be part of a happily ever after!
---
Am I your cat?
---
POSTED OCTOBER 4th, 2022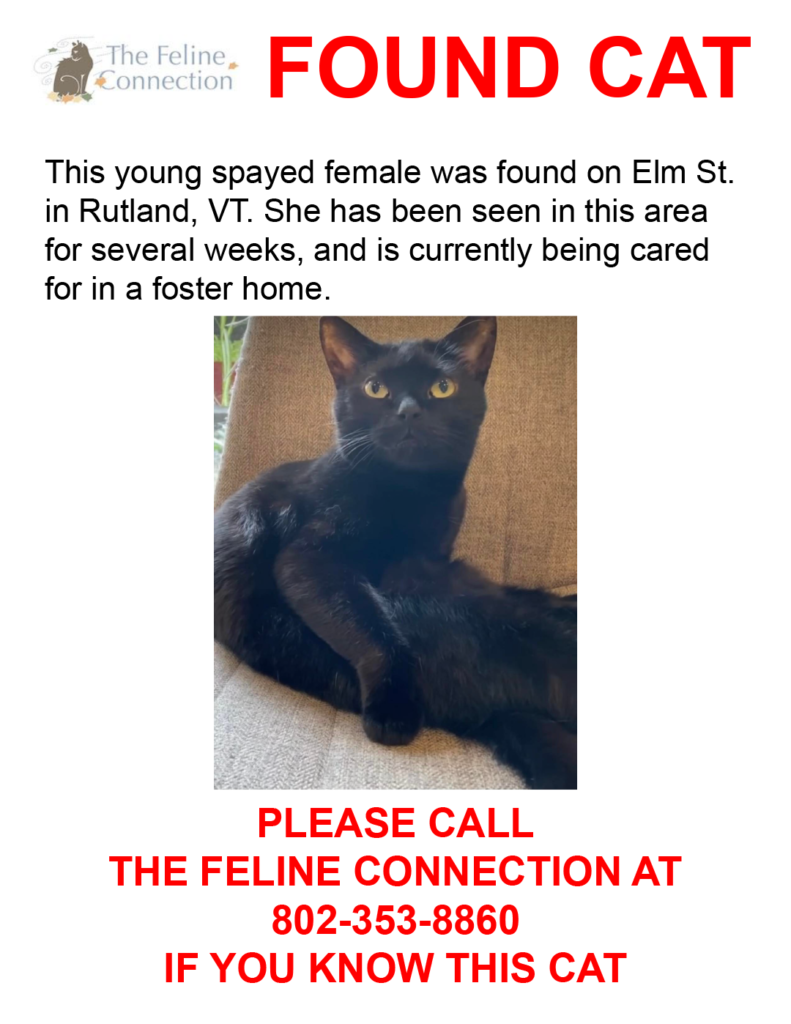 — FOUND (DATE AND LOCATION: STREET, TOWN, COUNTY): October 3, 2022 but has been around the area of Elm St in Rutland, VT for several weeks.
— APPROXIMATE AGE: Young
— MALE/FEMALE?: Spayed Female
— COLLAR/TAGS/MICROCHIP?: not scanned for microchip yet.
— DESCRIPTION: Slim black cat
— DISTINGUISHING MARKINGS:
— CONTACT PHONE NUMBER OR EMAIL: (802) 353-8860
This cat is in foster care getting all the love, affection, food, warmth and any needed health care.
---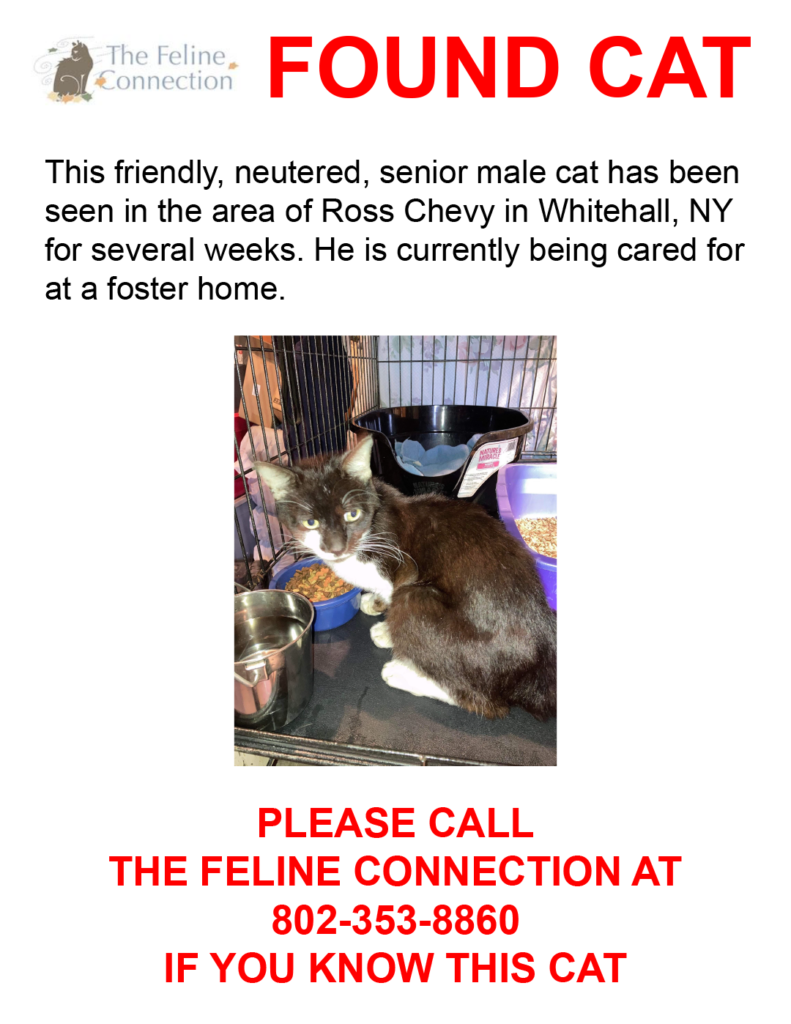 — FOUND (DATE AND LOCATION: STREET, TOWN, COUNTY): Sept. 24, 2022, in the area of Ross Chevy in Whitehall, NY
— APPROXIMATE AGE: Senior
— MALE/FEMALE?: Neutered Male
— COLLAR/TAGS/MICROCHIP?: None
— DESCRIPTION: , This friendly, neutered, senior male cat has been
seen in the area of Ross Chevy in Whitehall, NY
for several weeks.
— DISTINGUISHING MARKINGS: Tuxedo markings
— PLEASE CALL THE FELINE CONNECTION AT 802-353-8860 IF YOU KNOW THIS CAT
This cat is currently being given all the love, affection, food and medical care it needs in a caring Foster Family with The Feline Connection.
---
Learn more about The Feline Connection's adoption policies and procedures on our Adopt page.