Extra cuddly and affectionate all-around lovely girl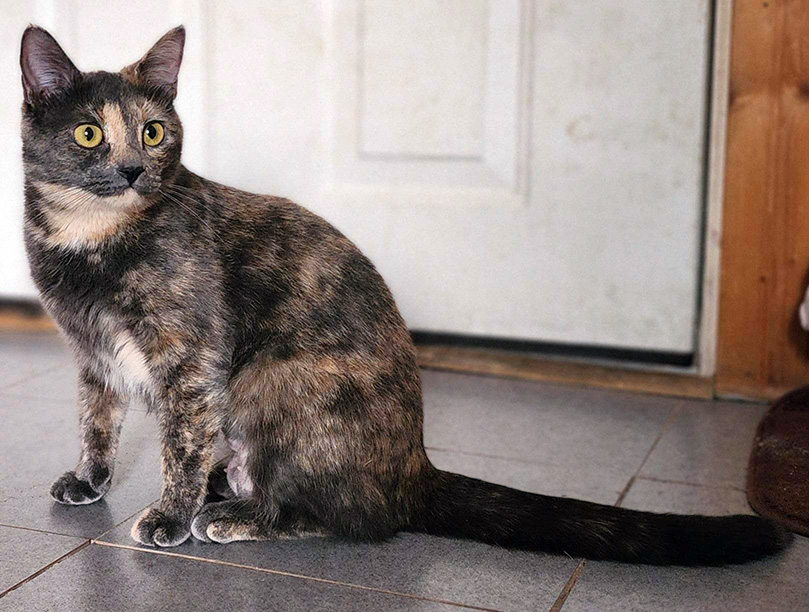 Meet Gracie, a sweet and affectionate dilute tortie cat who is looking for a loving forever home. Gracie was dropped off at a barn, and it was clear she is not an outside cat. Her new advocate took her in and has been caring for her ever since. However, the advocate already has a full house and cannot keep Gracie permanently, so she asked The Feline Connection to find a new family for this adorable fur baby.
Every time I enter her room, I am greeted by a gentle hello (meow). I chat with her a bit, ask how her day was… She is very vocal and holds up her side of the conversation quite well, but her opinions are up for interpretation. Gracie is a very energetic kitty and often has the "zoomies". She'll run up and down the hallway like a flash of lightning and plays with spring toys as well as string toys. When it comes time to settle down, she will jump up on the couch with my husband and snuggle down for petting and cuddles. We have learned that Gracie doesn't much care for butt scratches, but she thoroughly enjoys gentle pets and ear rubs.

Foster Family
She is very smart and quickly learned what her bag of treats and the catnip container look like. If we don't keep an eye on her, she is liable to help herself by reaching in and sneaking a treat or two. Gracie is a very lovable but also mildly independent cat. She enjoys cuddle time and play time, but like any cat, she has times when she would rather be alone. She may have instances where she throws a temper tantrum and shows her "tortitude," but those moods pass quickly and she returns to her normal, happy, "pet me" self that we have grown to love

Foster Family
At first, Gracie was a little shy and unsure about her new surroundings, but after settling in, she's become a loving cat. She loves nothing more than getting attention and chasing her human friends down for snuggles.
Gracie enjoys playing with string toys and occasionally indulges in catnip. Good with older children.
Gracie is ok with calm–and big–dogs, and with slow introductions, she may be okay with other cats as well. She's already comfortable with her foster family's male cat, but she's still getting used to the female cats in the household.
She has also done well with our bigger dogs and isn't afraid to let them know when they have given her too much attention

Foster Family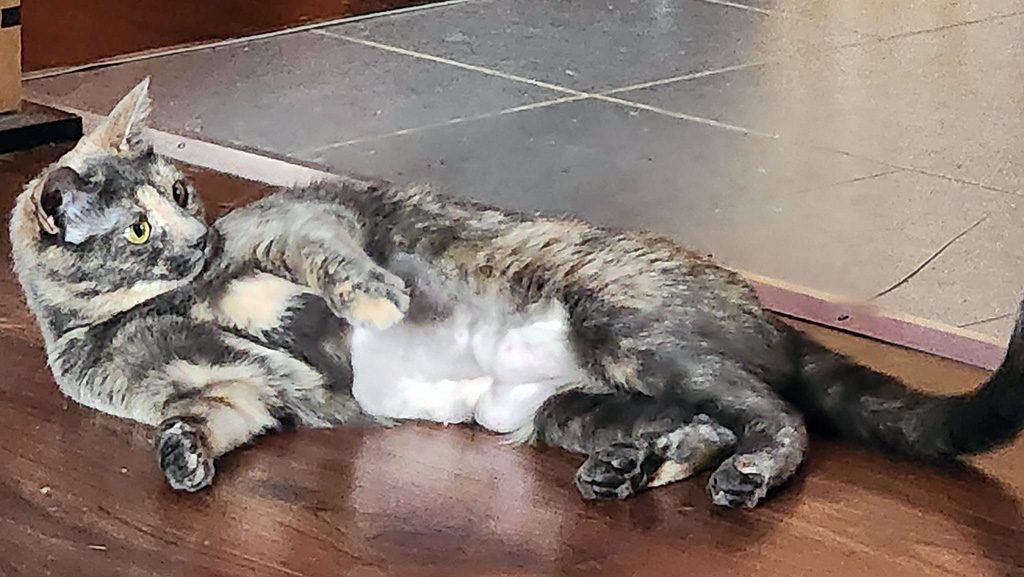 We estimate Gracie is three years old and was born in the spring of 2020. Gracie has been spayed, microchipped, and given age-appropriate vaccines. Thankfully, she tested negative for FeLV & FIV.
If you're looking for a family-friendly cat, Gracie is a great choice. She's good with children and would fit in well with most any family. So why not apply to adopt her below and learn more about Gracie? She's ready to bring love and joy into your life.
---
Interested in giving a cat a loving Forever Family? Please fill out an Adoption Application. To place a cat on hold, a $50 deposit fee is required. Cats can be placed on hold after your Adoption Application has been approved.
Learn more about The Feline Connection's adoption policies and procedures on our Adopt page.