Available for Adoption, Rutland VT
Gorgeous and friendly, talkative and gentle, long-haired Norwegian Forest Cat mix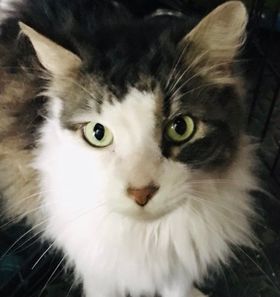 Hi there, I'm Oliver, but my friends call me Ollie. I'm here to tell you a little bit about myself and my journey so far. I somehow became separated from my family, and was fending for myself when a very nice lady noticed me and started feeding me. I was super friendly but in terrible condition. She contacted The Feline Connection and they decided to rescue me! I hadn't eaten much in a long time, and I couldn't take care of my coat by myself. My coat was so matted, a local professional groomer donated my new Lion Cut! I feel so much better now.
I'm a five-year-old male Norwegian Forest Cat mix with luxurious long hair. My coat pattern is a handsome tabby and white. You might notice my striking harlequin pattern and that the fur around one eye is white while the other is dark. Yep, I'm one of a kind! I have a wide nose and beautiful light mint-green eyes that seem to capture the (human) ladies.

Ollie, probably
I'm still on the skinny side, but I am extra tall, I have been told my size is truly impressive. I can get my paws almost up to my foster person's shoulders when I stand on my hind feet – it's quite a sight! All of which makes me extra-large and likely to reach a whopping 25 pounds once I get to a proper weight!
I adore people and I'm incredibly friendly and gentle. I absolutely love being loved, though I might not be the biggest fan of being held. But my foster is helping me get more comfortable with it, and I'm not one to squirm too much. I'm not a fan of dominant cats or dogs, so I'd prefer a home where I can be the center of attention. You'll find me to be a gentle and sweet companion who's not shy about voicing my thoughts – I'm quite talkative!

Ollie, probably
When it comes to mealtime, I'm always ready to dig in, especially when you sit with me. I start eating as soon as you walk in the room – that's how excited I am about mealtime! Grooming is another one of my favorite activities, and I don't mind visiting the groomer or the vet. In fact, I love being groomed, so a family that can pamper me with daily grooming would be ideal.

Ollie, probably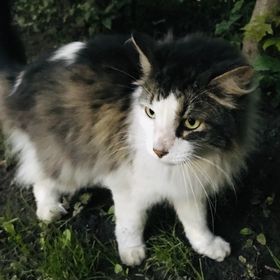 We estimate that Oliver is about five years old, but it is really hard to tell. He arrived neutered but without a microchip, and he had clearly been on his own for some time. He has been given age-appropriate vaccines and thankfully tested negative (good) for FeLV and FIV. Now, when it comes to litter training, he is a pro – an excellent box user.
So, in a nutshell, I'm a gentle, sweet, and talkative cat who loves people and being pampered. If you're looking for a furry companion who's as unique as they come and you're ready to provide me with a loving home, then I might just be the perfect match for you. Let's start this journey together!

Ollie, probably
If Oliver would make a good match for your Forever Family, you love brushing long-haired floofballs who are also goofballs, and you don't have dogs, please fill out an Adoption Application below and put his name on top!
---
Interested in giving a cat a loving Forever Family? Please fill out an Adoption Application. To place a cat on hold, a $50 deposit fee is required. Cats can be placed on hold after your Adoption Application has been approved.
Learn more about The Feline Connection's adoption policies and procedures on our Adopt page.