This bonded duo loves to play and explore. One is very loving and affectionate, and the other recently learned to trust.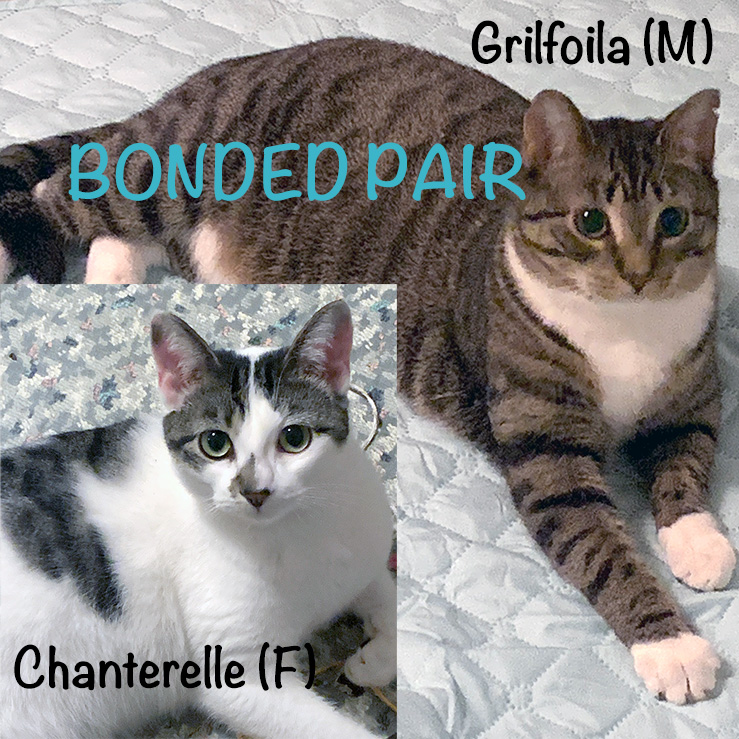 Chanterelle and Grifola are a bonded pair of cats who were rescued from an overcrowded situation. Chanterelle is a social and affectionate cat who loves receiving attention and cuddling from her human companions. Grifola, on the other hand, is a bit shy but not aggressive and has slowly started to trust his foster mom. Chanterelle is his source of comfort and gives him courage when needed. Both cats enjoy mealtime and playing with their favorite toys, and are impeccable litter users. They are excellent house cats and get along great with each other, making them the perfect pair for a loving and patient home.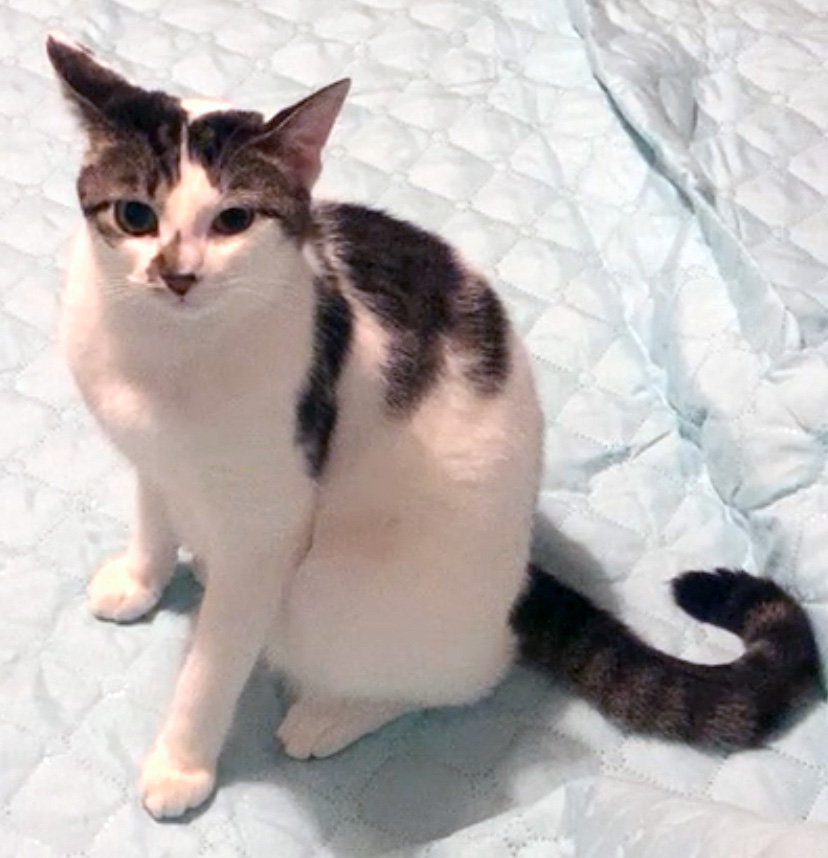 Meet Chanterelle, a friendly and socialized female cat who enjoys the company of other cats. She has a mellow personality and loves to play, especially with her favorite toy, plastic springs. Her favorite food is wet food, and her favorite activity is to get affection from her human companions. You can often find her lounging in her favorite sleeping spot – the cozy window seat, where she can observe the world around her. Chanterelle is a playful and affectionate cat who would make a great addition to any home.
Chanterelle is a young adult Domestic Shorthair cat with a striking black, gray and white coat. Her white fur is dominant, with black/gray tabby spots scattered throughout her coat and a striped tail, creating a unique and eye-catching pattern. She has a medium-sized build. Chanterelle is a pretty girl with a unique coat and a charming personality.
I would not recommend Chanterelle go to a home with young children or the elderly. She doesn't have a mean bone in her body but is still learning that her nails do not need to be "flexing" constantly. She has come a long way with reminders and redirection and never uses her nails in a mean way. Keeping them trimmed will also help

Foster family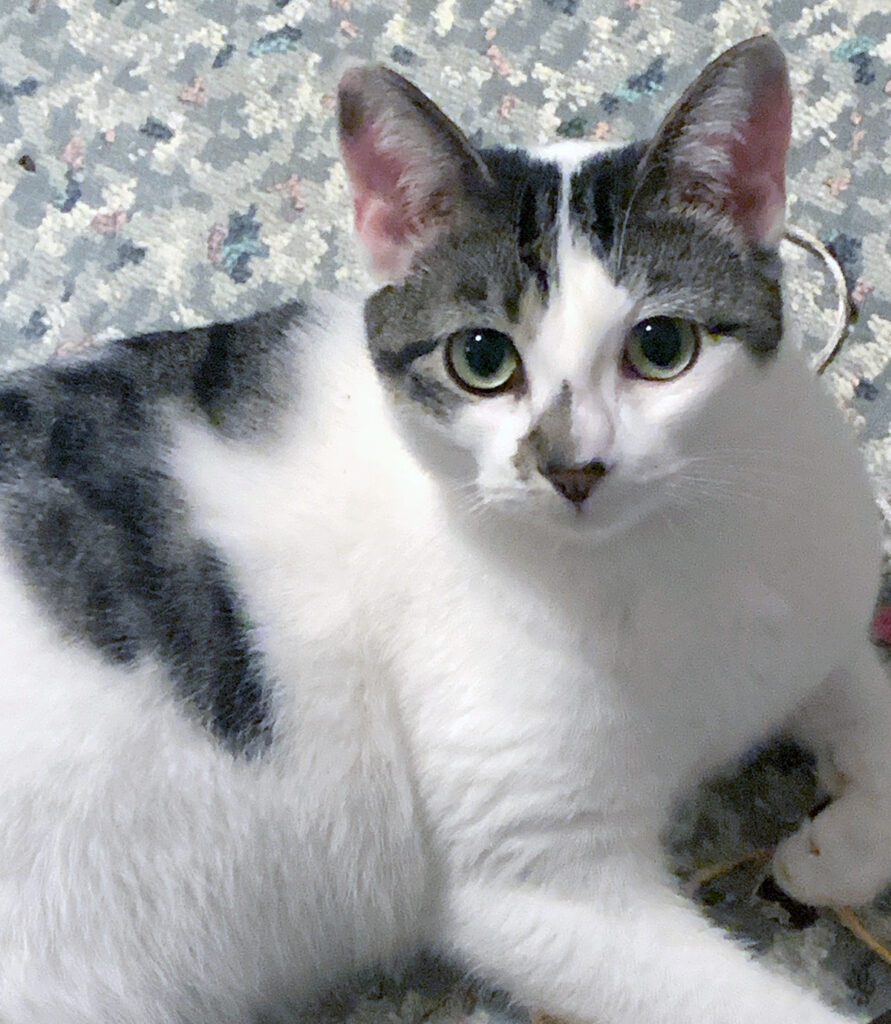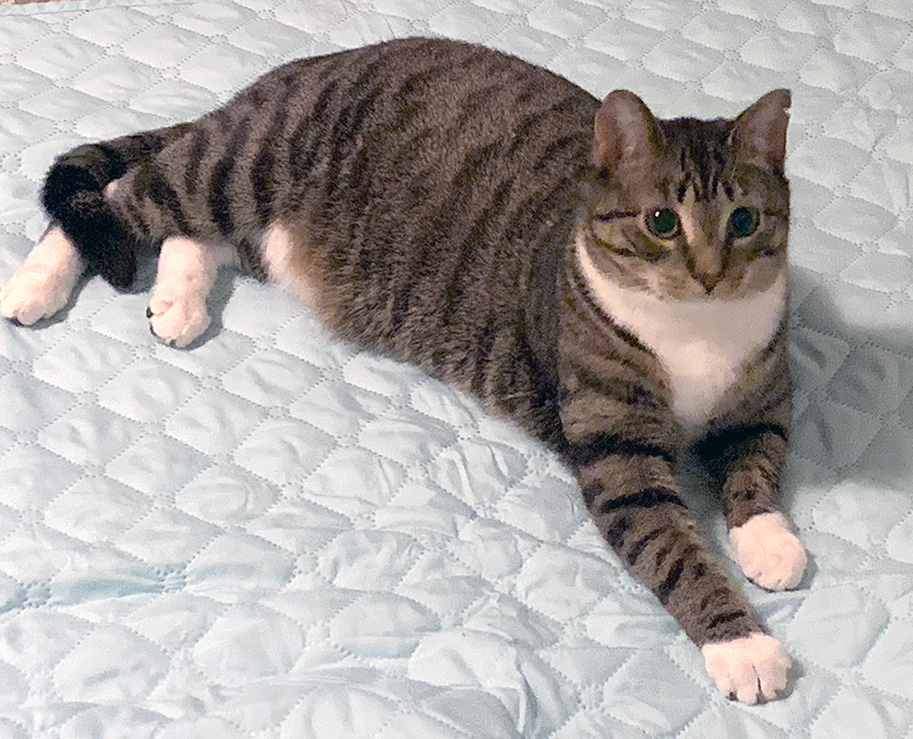 Introducing Grifola, a handsome male Domestic Shorthair cat with a brown Tabby pattern and beautiful white boots, chest, and bib. He is very dapper! Grifola is an adult cat who is good with other cats and adores Chanterelle. He is a bit shy but a very mellow guy. He loves to explore and is curious about his surroundings, and he also enjoys a good play session with his favorite toy – a toy mouse. Grifolia's favorite food is still a mystery, but he loves to find a cozy spot to sleep, preferably in his favorite chair. He would make a great addition to a home with a laid-back environment where he can comfortably explore and play. He has an excellent example in Chanterelle of how to enjoy life with humans, and he will need some time to learn to trust his new family.
We often see cats like Grifola blossom when they are adopted, where they can get much more individualized attention and it is a little less busy.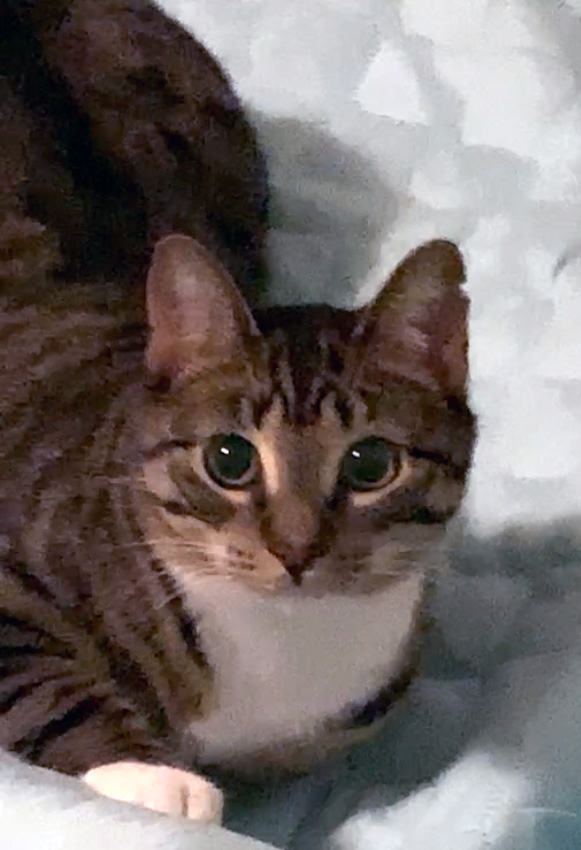 Chantrelle and Grifola have been spayed and neutered, respectively. They both tested negative for FeLV/FIV and have been given age-appropriate vaccines as well as a microchip. We don't have a good age estimate for these two. We think they may be about three years old.
Chantrelle and Grifola are bonded besties who are looking for a Forever Family with lots of sunshine, love, cozy places to sleep, and tasty food. They will prosper with a patient and not too rowdy family. If you are interested in this cute pair, please fill out an Adoption Application below and put their names on the top!
---
Interested in giving a cat a loving Forever Family? Please fill out an Adoption Application. To place a cat on hold, a $50 deposit fee is required. Cats can be placed on hold after your Adoption Application has been approved.
Learn more about The Feline Connection's adoption policies and procedures on our Adopt page.
Learn more about The Feline Connection's adoption policies and procedures on our Adopt page.