Twice the snuggles, fun, and love with this gorgeous, sleek pair of female house panthers.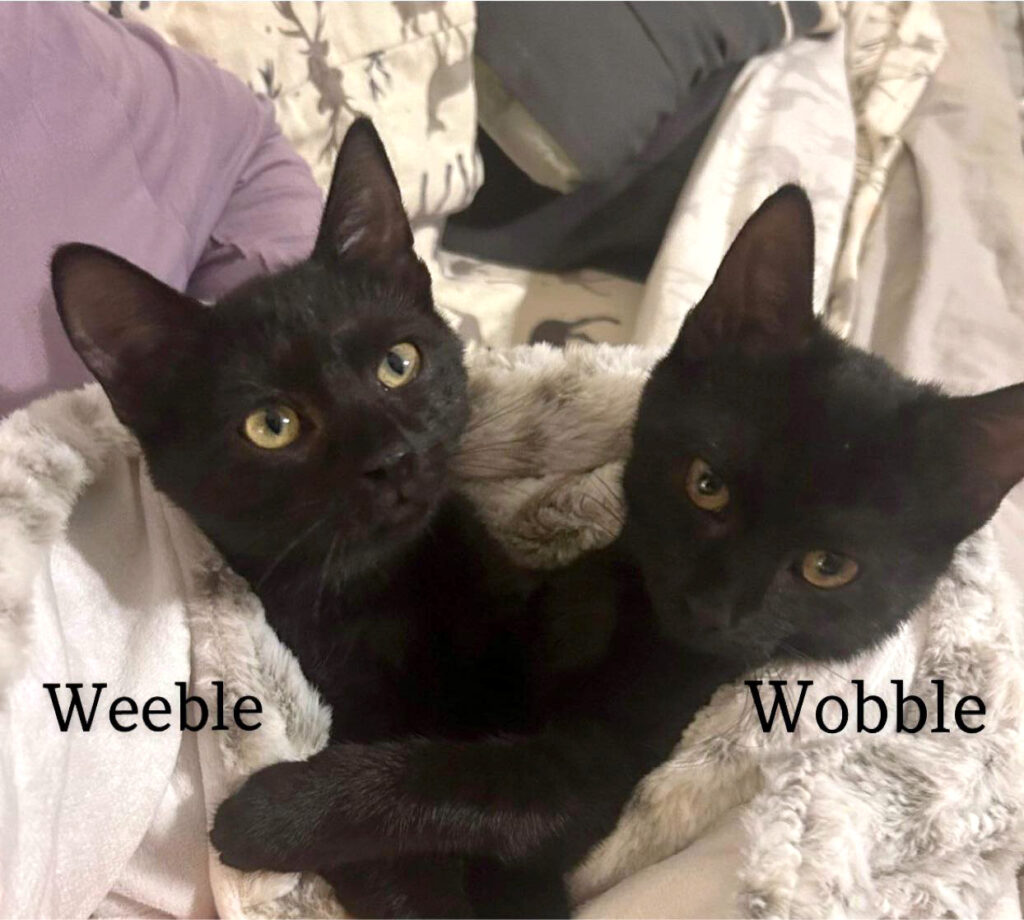 Hey there, hoomans! We're the dynamic duo you've been dreaming of – Weeble and Wobble reporting for cuteness duty! 🐱🐱 Yup, you heard it right, we come in a pair because who wouldn't want twice the fun and twice the love?

Weeble – probably
Perfect Harmony: While Wobble and Weeble have their distinct personalities, they share a unique friendship that is heartwarming. They complement each other in the most endearing way and are the best of friends. Although they aren't officially bonded, they have a special connection that makes adopting them together a truly wonderful experience. We would really like to see them adopted together. They are such a pretty pair! They are good with kids and dogs.
They were great with kids at yoga and they play with Liv and her friends. My nieces have also been over to play with them and they are great. We don't have a dog, but our neighbors do. They don't appear to be scared or bothered by dogs. The home they came from also had a dog and we have videos of the kittens with the dog unbothered

Foster Family
Let's start with Weeble – that's me! I might be the smaller one, but don't let my size fool you. I'm the one who leads the way when it's time to play. Feather toys, laser pointers, crinkly balls – you name it, I'm all in! I'm always up for a game of chase or pounce. Oh, and let's not forget the treats! Food is basically the soundtrack of our lives, and I can guarantee you won't find a more enthusiastic foodie than yours truly.

Weeble – probably
Now, onto my partner in crime, Wobble. She's got that chill vibe. While I'm busy bouncing around, she's taking life at a more leisurely pace, soaking in all the cuddles and chin scratches she can get. She's the yin to my yang, the calm to my storm. But she's just as playful when the mood strikes!

Weeble – probably
Oh, did someone say snuggles? Count us in! There's nothing quite like finding the coziest spot on the couch or curling up on the bed, right next to you.

Weeble – probably
And let's talk about exploration – we're basically the Indiana Jones of the feline world. Give us a chance, and we'll turn your living room into a jungle of excitement! Every cardboard box is a potential fortress, every paper ball a hidden treasure. We live for those "ah-ha" moments when we discover a new nook or cranny to investigate.

Weeble – probably
Health and Care: These lovely kittens were initially thought to have Cerebellar Hypoplasia, as highlighted in a blog by The Feline Connection. However, their wobbly symptoms gradually disappeared during their time with us. We suspect that prior exposure to poisonous substances may have caused their initial unsteadiness. Rest assured, they are now thriving and show no signs of any instability. Wobble and Weeble are excellent eaters, keep their living spaces tidy by using their litter boxes flawlessly.
They have both been spayed, microchipped and given age-appropriate vaccines. They tested negative (good) for FeLV and FIV. They are ready for their Forever Family!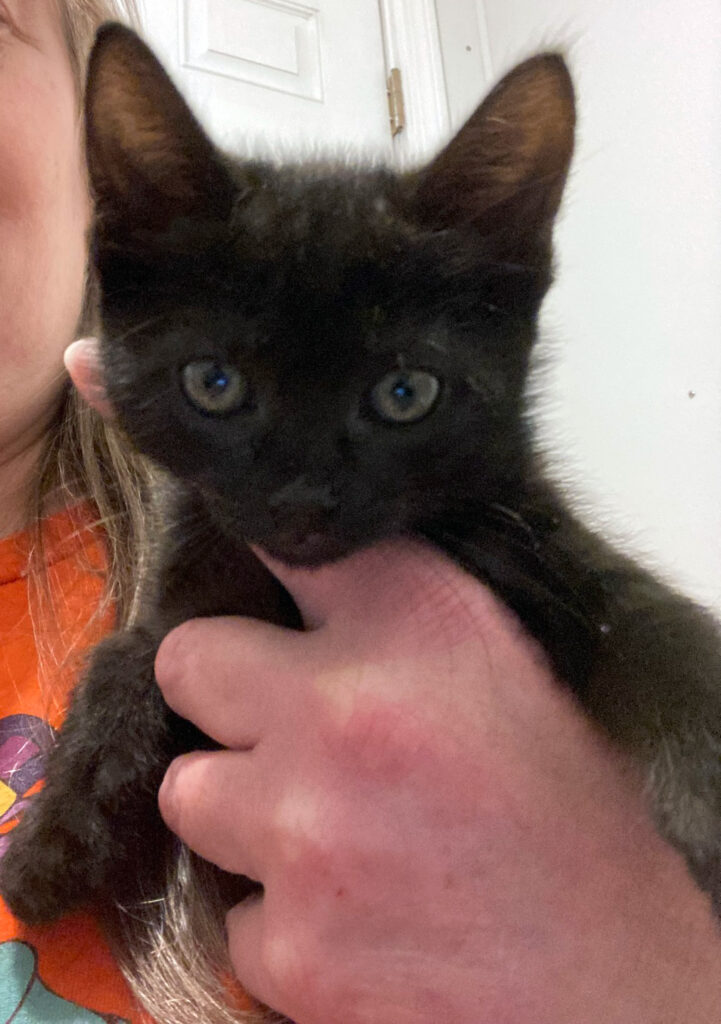 So, if you're looking for a beautiful pair of furry friends who are all about play, snuggles, and turning everyday moments into extraordinary adventures, look no further. Weeble and Wobble are here to make your life a whole lot more entertaining and love-filled. Fill out an Adoption Application below, and get ready for a double dose of feline fantasticness! 🐾
---
Interested in giving a cat a loving Forever Family? Please fill out an Adoption Application. To place a cat on hold, a $50 deposit fee is required. Cats can be placed on hold after your Adoption Application has been approved.
Learn more about The Feline Connection's adoption policies and procedures on our Adopt page.
Learn more about The Feline Connection's adoption policies and procedures on our Adopt page.