Super sweet and loving, stunning, affectionate, and soft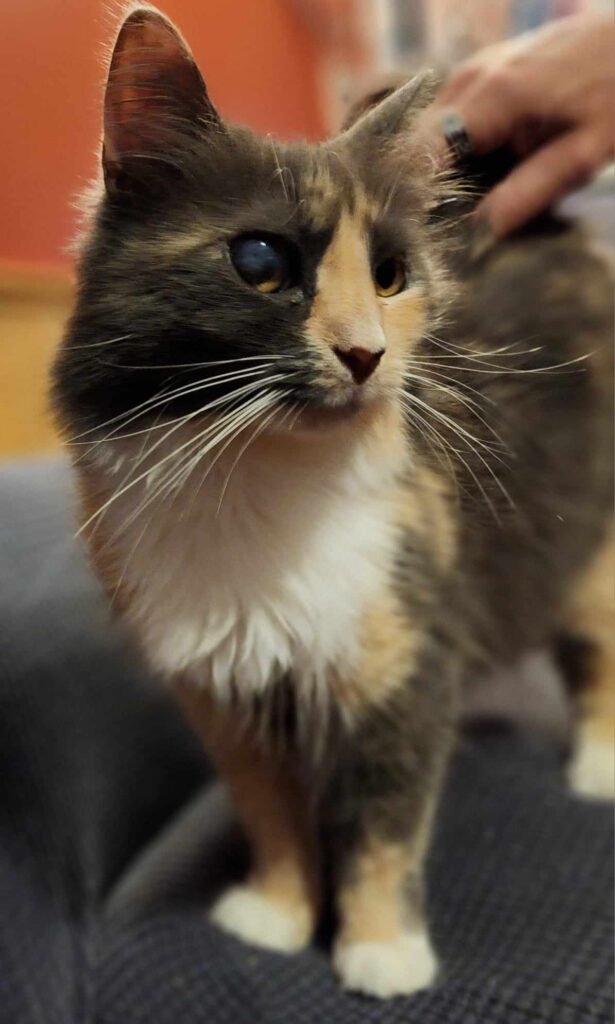 Harriet is a loving girl who would prefer a quieter life. She enjoys gentle pets and absolutely loves to be brushed. While she isn't a fan of rambunctious animals, she would be okay with a dog who respects her personal space. She will tolerate another kitty but would really prefer to be the only feline in the home. Harriet will play with string toys, but her true love is another toy… a Weeble-Wobble mouse. She also likes the chirping bird toys. She may seem shy at first, but once she warms up to you, she lets her personality out! Harriet would make a wonderful companion kitty for families without small children as she does startle easily due to poor eyesight in her right eye.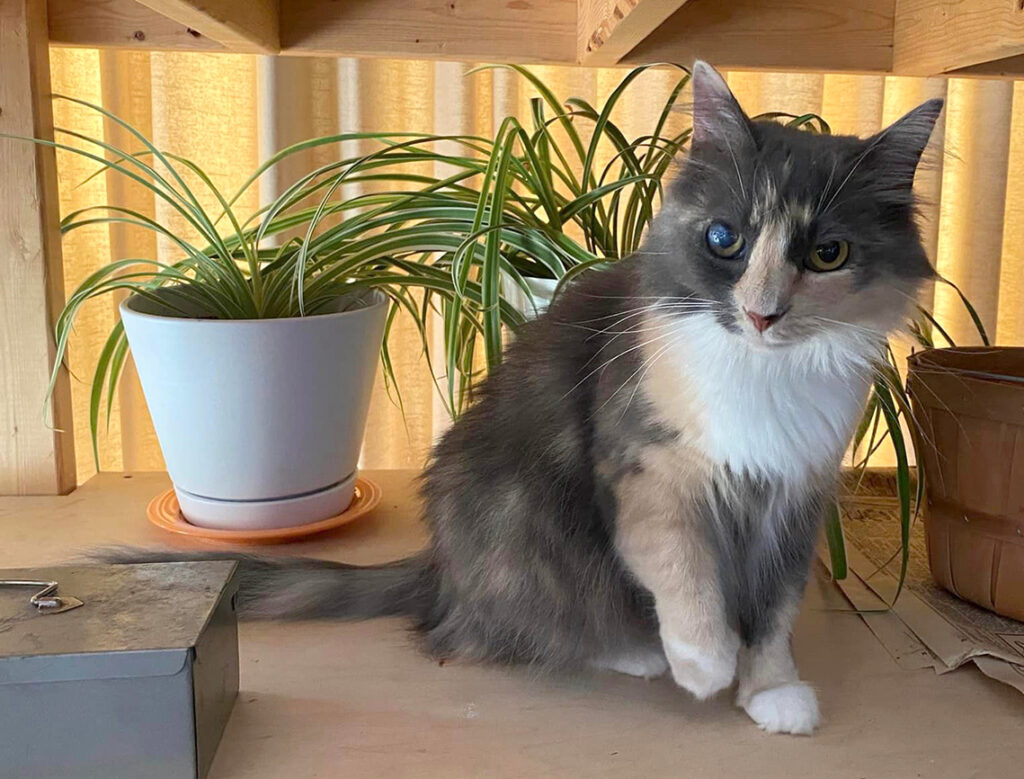 Harriet loves pats and scratches. She will rub on my legs, and follow me around the room. I can pick her up and hold her. If she wants pats, she will reach up with her paws and grab my hand. She is a very mellow and quiet girl who loves to play with toys.

Foster Family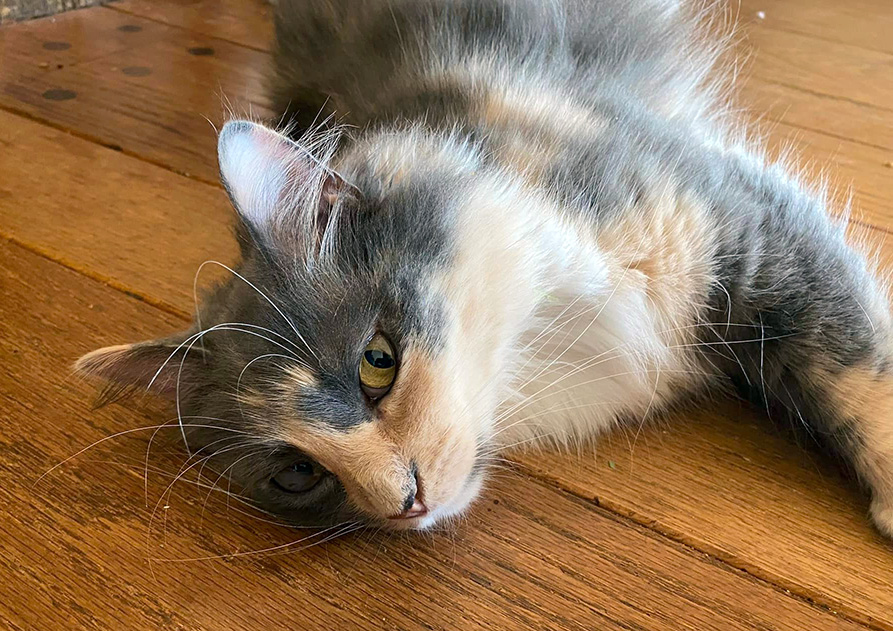 Harriet will sleep on the bed next to me. She doesn't seem to be too much of a lap cat but will sit next me to happily. I was surprised how quickly she became comfortable (in our home). From what her previous foster was saying it sounded like it would take a little while. Maybe it's because there are no other pets in my house. I forgot how much more active younger cats are at night! During the night she talks as she moves all of her toys around.

Foster Family – July 26, 2023
Harriet is such a sweet girl. She LOVES chin scratches and brushes.

Foster Family
Harriet is playful, and also a calm and mellow cat. She will follow her human around and rub on legs! She is so sweet!
Her coat has come in beautifully with proper care. She is a Medium-Hair dilute calico.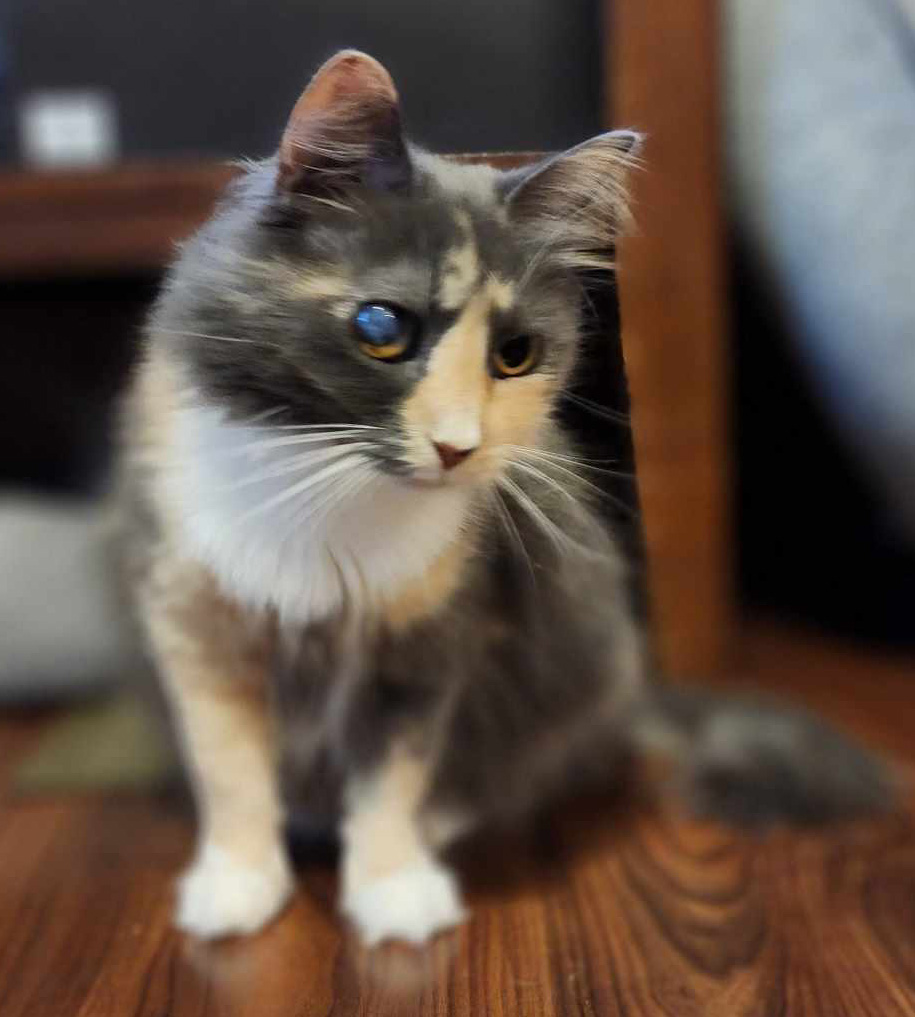 She came from a barn where she had interaction and was fed by an advocate, so had some contact with humans prior to rescue.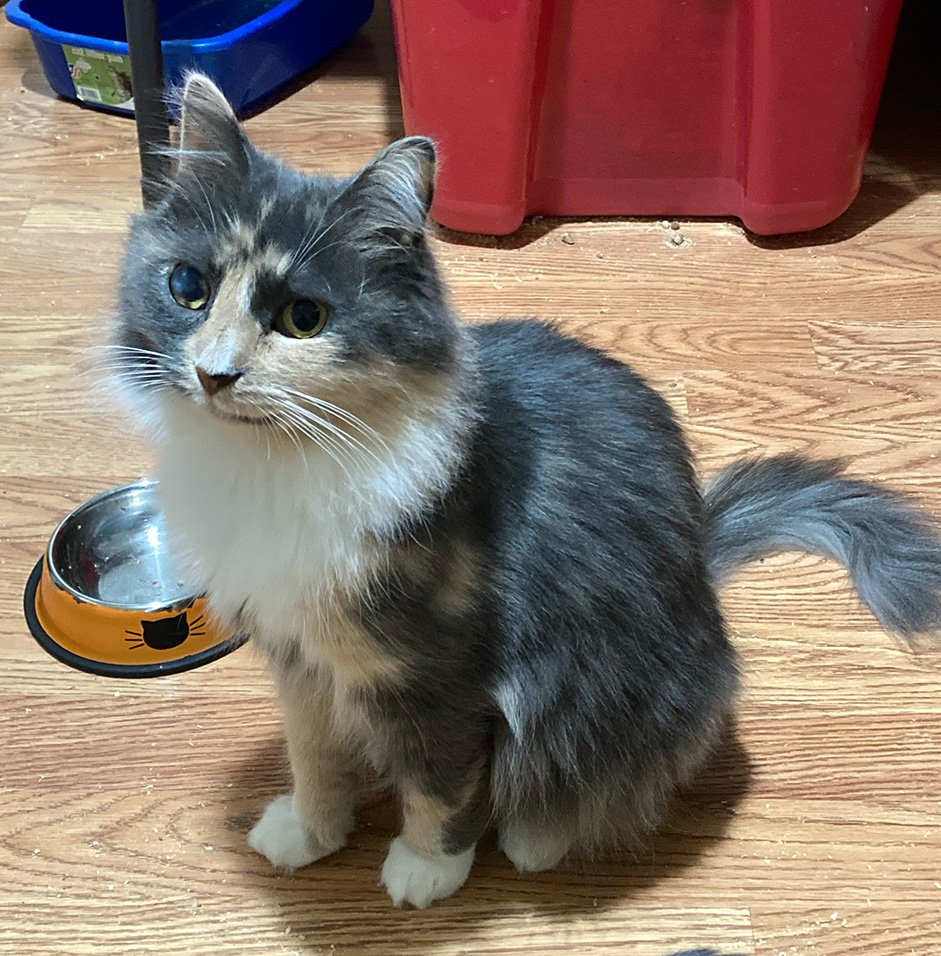 This lovely and loving cat has blossomed into an amazing girl! She was surrendered to us pregnant and in need of some extra training in how to be a housecat. She passed with flying colors! She loves her foster family and will follow them around! She is no longer shy with strangers.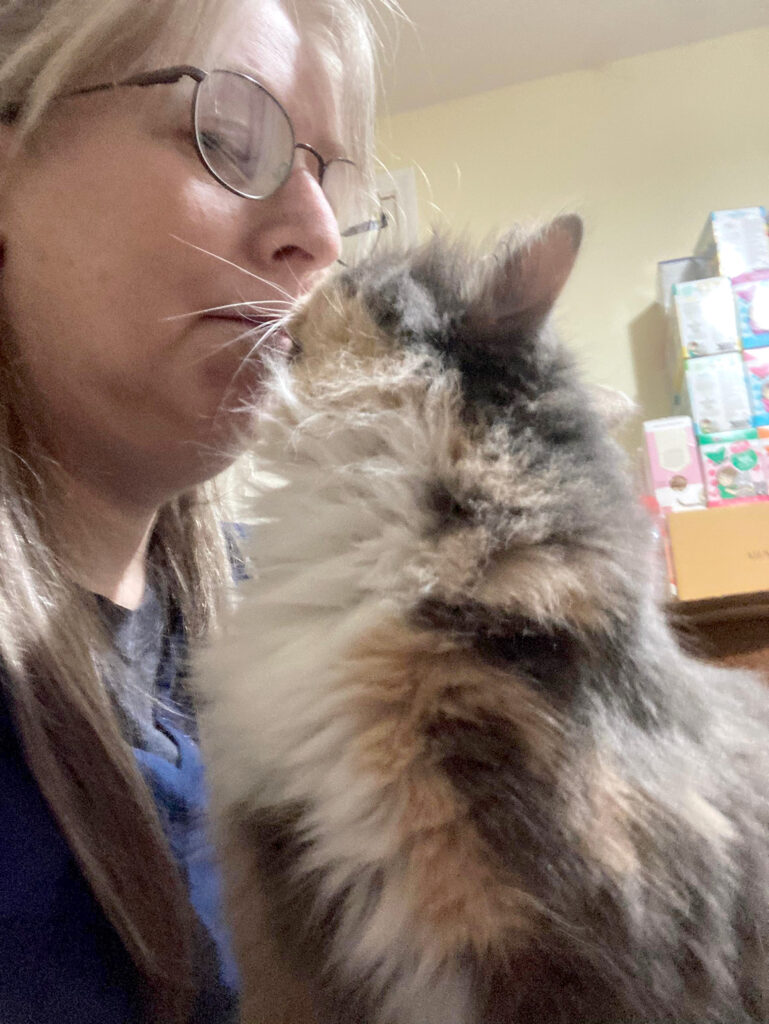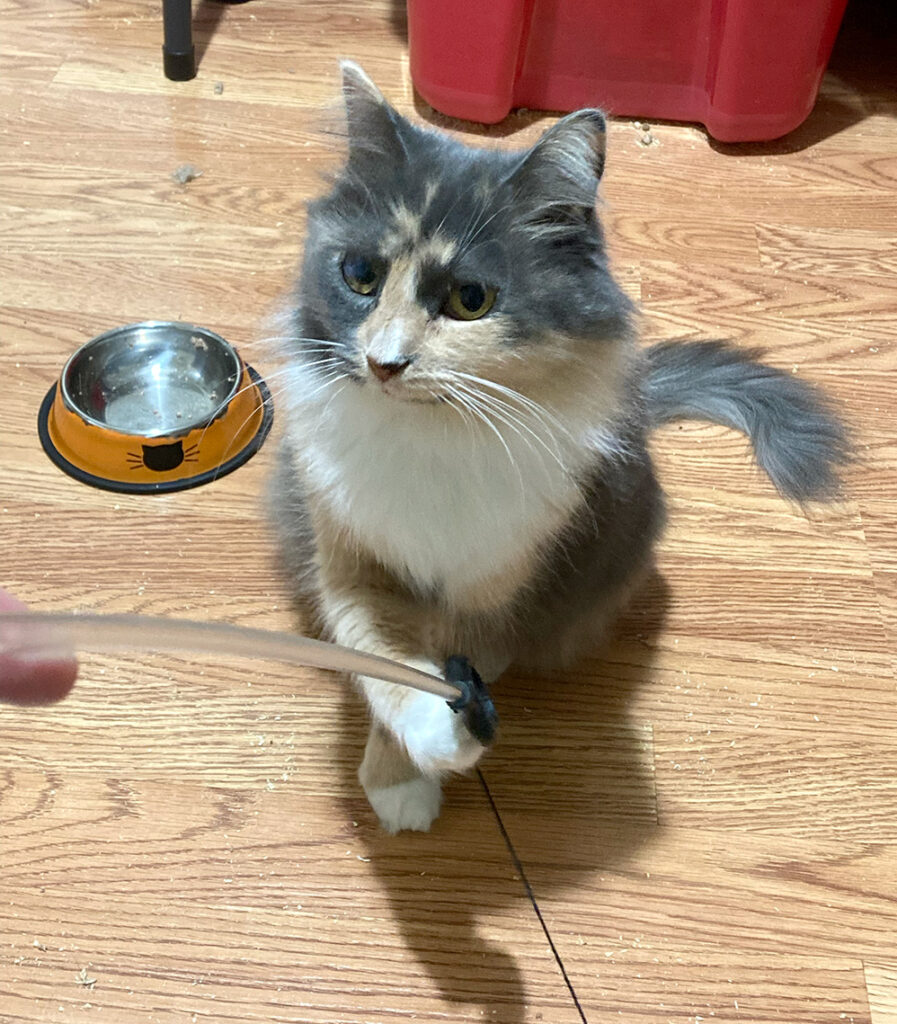 "She is such a kind and sweet girl. I never would have guessed if on day one. I was convinced she would be going back to the barn. Such a transformation!!! Calm, gentle, and sweet. She begs for attention. She will reach up and grab my hand with both paws when she wants attention. Such a kind beautiful girl. Her coat has come in do beautifully too"

Foster Family
She has had her last litter of kittens. We were happy to help her raise her three fluff balls (all adopted), but no more for her! We estimate Harriet was born in the summer of 2018. She has a few badges from her time living outside. She tested negative (good) for FeLV/FIV. She has been given age-appropriate vaccines and a microchip, and is ready for her new family!
Interested in giving Harriet Forever Family? Harriet will do a little better in a quieter home, or at least one that is not full of lots of other people and animals. If so, fill out an Adoption Application for below and put her name at the top!
---
Interested in giving a cat a loving Forever Family? Please fill out an Adoption Application. To place a cat on hold, a $50 deposit fee is required. Cats can be placed on hold after your Adoption Application has been approved.
Learn more about The Feline Connection's adoption policies and procedures on our Adopt page.
Learn more about The Feline Connection's adoption policies and procedures on our Adopt page.