Available for Adoption or Foster-to-Adopt
Rutland, VT
Looking for love? This sweet and affectionate duo seeks a minion for pets and purrs ASAP!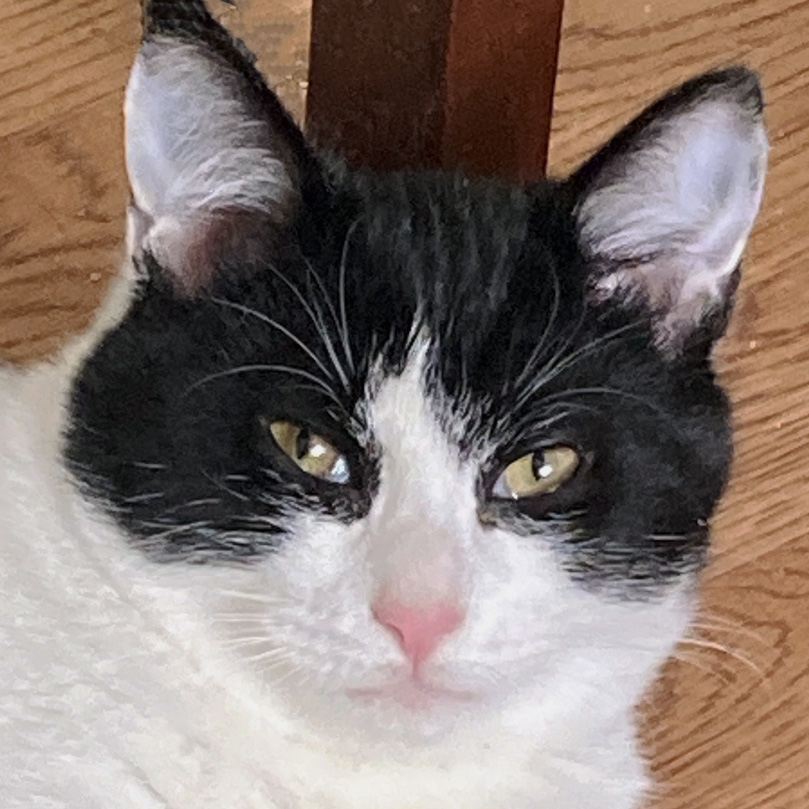 Lentil and Parsnip beg and purr for pets and affection. Lentil will shove his head under a hand and demand pats. Parsnip likes to plop over on his side for attention. These two BFFs are bonded, and they are pretty unhappy when separated (we learned the hard way!).
Lentil and Parsnip came to The Feline Connection as feral strays with their Mom and siblings when they were about 9 weeks old. They started off unfamiliar with humans, but have learned how much fun humans can be!
Lentil
Lentil really is a character. He is such a sweet loving boy. He runs over to me as soon as I enter the room. Most of the time I am in there, he is rubbing against my leg, and begging for attention. If I am not petting him, or if I stop, he will either slap me with his paw, (no claws), or reach up and grab me.

Foster Mom
Lentil will take a little time to warm up to strangers, so don't be surprised if it takes some days before you see much of him after he comes home. And, as you can see, he is worth the wait!
Parsnip
Parsnip really is a good boy who likes attention. In addition to being a stunningly beautiful gray boi, his eyes are a lovely yellow-green! He loves a good scratch, and seeks them out whenever his foster mom is with him. He is playful and always fun to hang out with. He has learned that humans are good and loving, that life inside is much much better than outside, and that humans have yummy treats!
He will hiss at me when I first walk over, but as long as I scratch his back first, and move up to his head, he is all purrs. If someone had more time with him, I think he would get much better. I think he may always be a bit spooky, but he does like attention.

Foster Mom

Lentil and Parsnip will benefit from a patient adopter in a quiet home. These loving, affectionate, and sweet boys are appropriately cautious from their early life on the mean streets and therefore we expect them to take some days to warm up when you bring them home. They are great with other cats but have not interacted with dogs while in The Feline Connection's care. They would do best in a home with older children only.
Pro Tip: The way to their hearts is with squeeze-up treats!
In the four years The Feline Connection has been working, we have seen over and over that once cats like this get to the right family, they know it. It will take some days or weeks for the trust to build, and then they just blossom into fantastic loving pets.
Lentil and Parsnip's estimated date of birth is August 8, 2021. They are neutered, microchipped, and have received age-appropriate vaccines. They tested negative (good) for FeLV and FIV.
Lentil and Parsnip are the perfect examples of the power of fostering to transform a kitten's destiny. If you think you could be the perfect forever home for Lentil and Parsnip, fill out an adoption application below.
---
Interested in giving a cat a loving Forever Family? Please fill out an Adoption Application. To place a cat on hold, a $50 deposit fee is required. Cats can be placed on hold after your Adoption Application has been approved.
Learn more about The Feline Connection's adoption policies and procedures on our Adopt page.
Learn more about The Feline Connection's adoption policies and procedures on our Adopt page.