Loving, friendly and playful Tortellini enjoys affection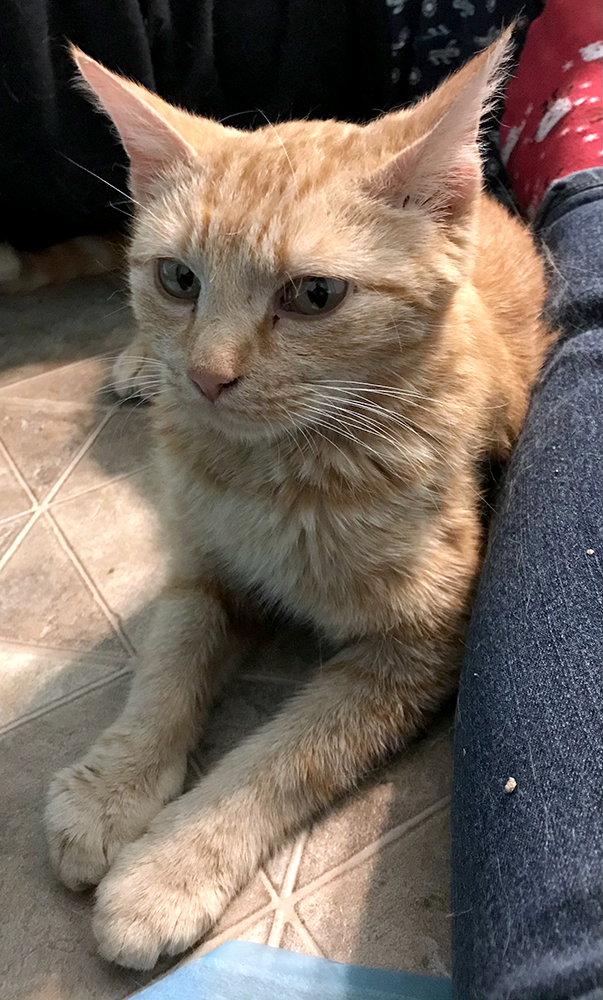 Tortellini is wonderful! She is so friendly, loves to be pet and get all the attention she can. She has not been vocal since after giving birth (she was quite vocal the day before). She often kneads while being pet. She has seen our labradoodle through a gate; they were about 5 feet apart, she didn't seem too scared, just kept her eye on the dog.
Tortellini loves attention. She has been friendly with our dog (who is gentle). She cries when her kittens leave the room, but will stop crying if we go in to comfort her. I'm not sure if she is worried about the kittens or just doesn't want to be left alone. Before she had the kittens, we did not hear anything from her, even when she was alone. She really loves to be pet and rub against you. She enjoys chasing string toys. When she is playful, she will occasionally try to play with your hand/arm if you try to pet her when she is laying on her side or back.

Foster Family
She is always eager to eat. She is happy to climb into our lap when we sit on the floor.

Foster Family
Tortellini likes string toys and is not a picky eater.
She is spayed, has a microchip and has a FVRCP and Rabies vaccines. She tested negative for FeLV and FIV. She came to The Feline Connection as a friendly pregnant stray, and we do not know anything about her background beyond that. Good with calm gentle dogs.
Tortellini will go right up to our dog and rub on her legs, so I think she would be ok with the right dog.

Foster Family
Tortellini is looking for a loving Forever Family to call her very own. She wants string toys, cozy places to sleep and a ton of affection. Does she sound like a good fit for your family? If so, please fill out an Adoption Application below and put her name at the top.
---
Interested in giving a cat a loving Forever Family? Please fill out an Adoption Application. To place a cat on hold, a $50 deposit fee is required. Cats can be placed on hold after your Adoption Application has been approved.
Learn more about The Feline Connection's adoption policies and procedures on our Adopt page.