Rutland, VT
Winsome Wyatt can't get enough of your love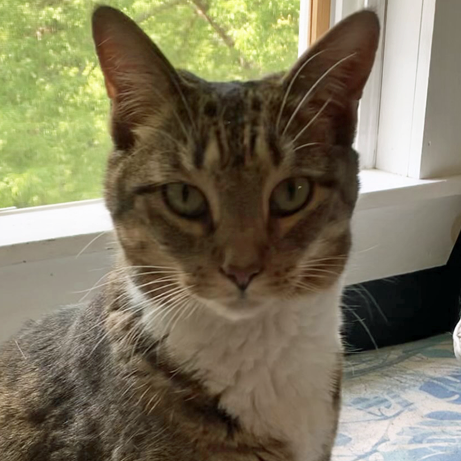 Wyatt – Adult Male: June 15, 2021
Wyatt is an exceptionally loving cat. There's absolutely nothing shy about this guy! He simply adores all people. As soon as someone enters the room, he is right next to them, rubbing up on them and trying to snuggle. He just purrs and purrs in appreciation when you give him any affection.
As you might be able to tell from the video above, Wyatt's biggest joy in life is being petted. He somehow manages to keeps his fur extra silky soft. (Maybe to encourage lots of petting?!?) When he isn't getting loved on, he enjoys watching the world go by from the safety and comfort of a window.
Wyatt is a sweet boy with incredibly silky fur. He has such beautiful coloring and the photos really don't do him justice. He is a very proper and clean boy. He is always spotless and he doesn't make a mess with his litter or food either.

-Wyatt's Foster Family
Wyatt very much wants to be petted and to stay in physical contact with his humans but he does not like to be held against his will. He does want constant contact though. At night he likes to sleep on the bed so he can be snuggly close.
Wyatt may be fine with other pets in his household. It will depend on the pet's personality. Wyatt's foster family says he has mostly ignored their senior dog and is wary of other cats. While he'll accept the presence of other cats, he prefers they respect his personal space.
Wyatt is neutered and has all his age-appropriate vaccines. He is about 9 years old. The normal adoption fee will be waived. He tested negative (good) for FeLV and FIV. He has a heart murmur, and The Feline Connection adoption team will explain more about that if needed.
Are you looking for an exceptionally devoted cat who wants nothing more in life than to show you how much you are loved? If so, apply to adopt Wyatt by submitting an adoption application via the link below.
---
Interested in giving a cat a loving Forever Family? Please fill out an Adoption Application. To place a cat on hold, a $50 deposit fee is required. Cats can be placed on hold after your Adoption Application has been approved.
Learn more about The Feline Connection's adoption policies and procedures on our Adopt page.
Learn more about The Feline Connection's adoption policies and procedures on our Adopt page.