Fuji – Petite and super sweet. LOVES dogs and good with cats!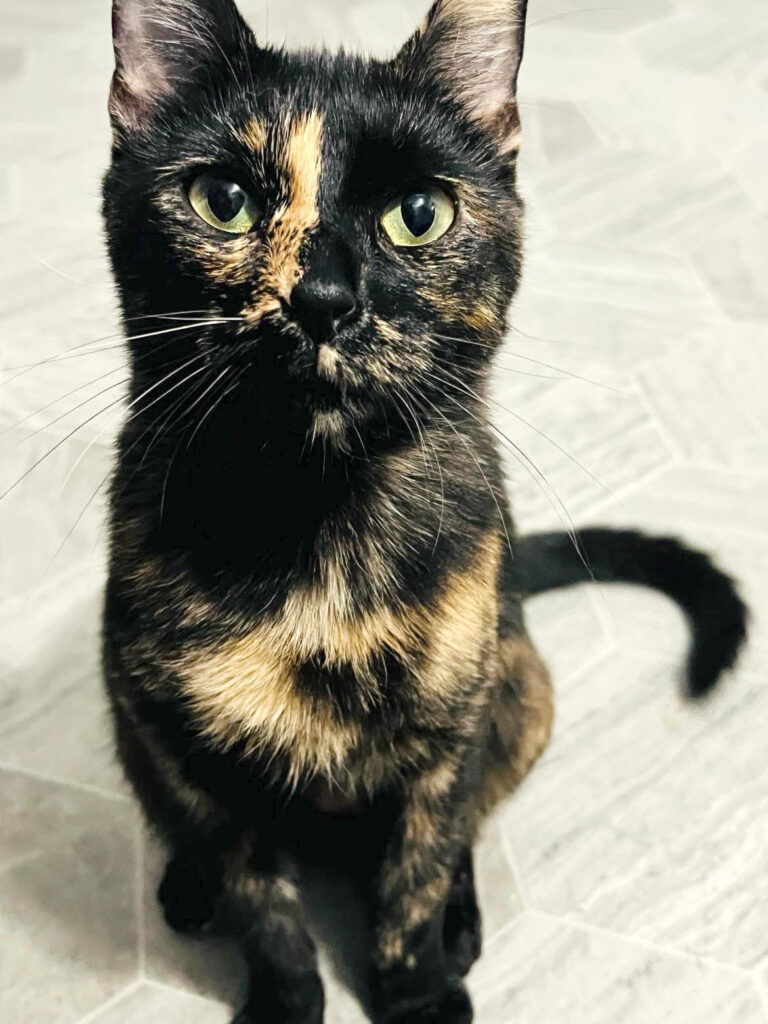 Fuji is a very sweet and affectionate girl who loves attention and getting pets. She is happy when her people come home and tends to stay in the room with them. She has an independent streak too! She loves dogs and enjoys napping with them! She doesn't run from people and prefers pets vs. being held. She is pretty mellow but also enjoys playing with toys. She likes the laser pen and little toy mice.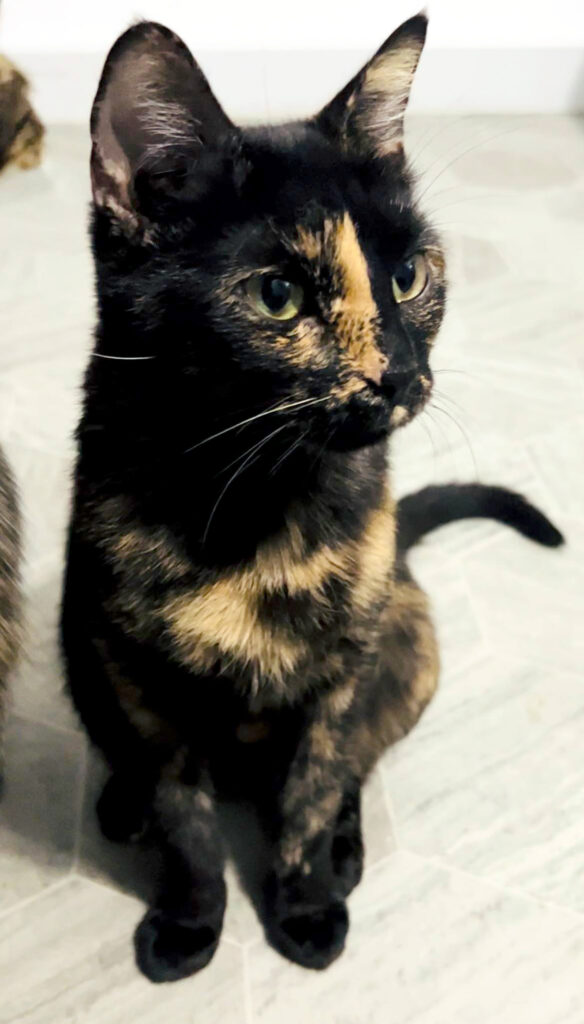 Once playing is done she enjoys sleeping on a bed and is also happy next to a person (touching a hip or arm, please). She has beautiful calico markings and is sweet and full of love!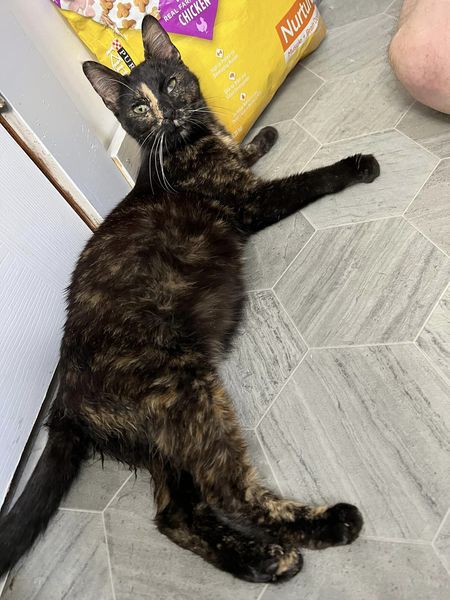 She is good with cats overall. We have one male cat who she struggles to get along with but it is more him than her. They do not physically fight, just verbal. She LOVES dogs. Frequently snuggles with our resident dog and immediately friended a young visiting black lab. We don't have young children but we have no concerns. She is affectionate and likes people very much.

Foster Family
She is not shy and she is independent and socialized. She likes to greet people at the door. She likes to sleep on the bed at night and loves to be pet and in contact with people. She doesn't enjoy being held for long, and she does enjoy rubbing up against her people. She had a litter of 5 kittens and was an excellent mom. Her kittens have been adopted, and she now likes to carry around their toys around!

Foster Family
She isn't particularly cautious or skittish. When other cats play with her, she really enjoys it. You can often find her sleeping with foster sisters Cagney & Lacey.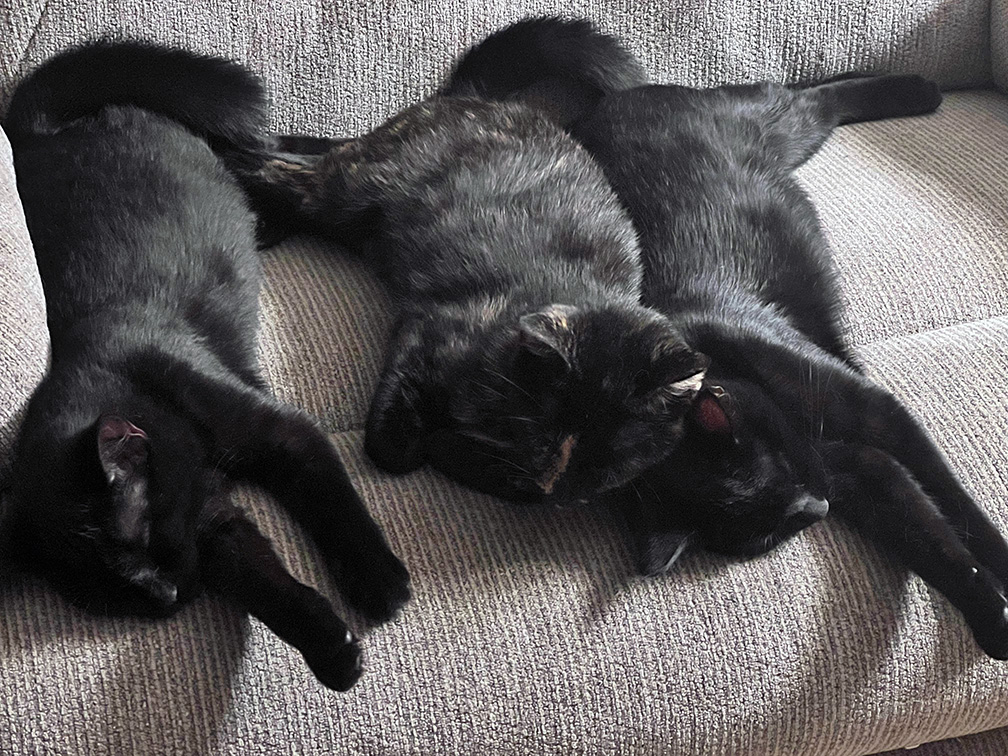 You can read more about her story on her birth blog Mom Cat Fuji's last litter in photos.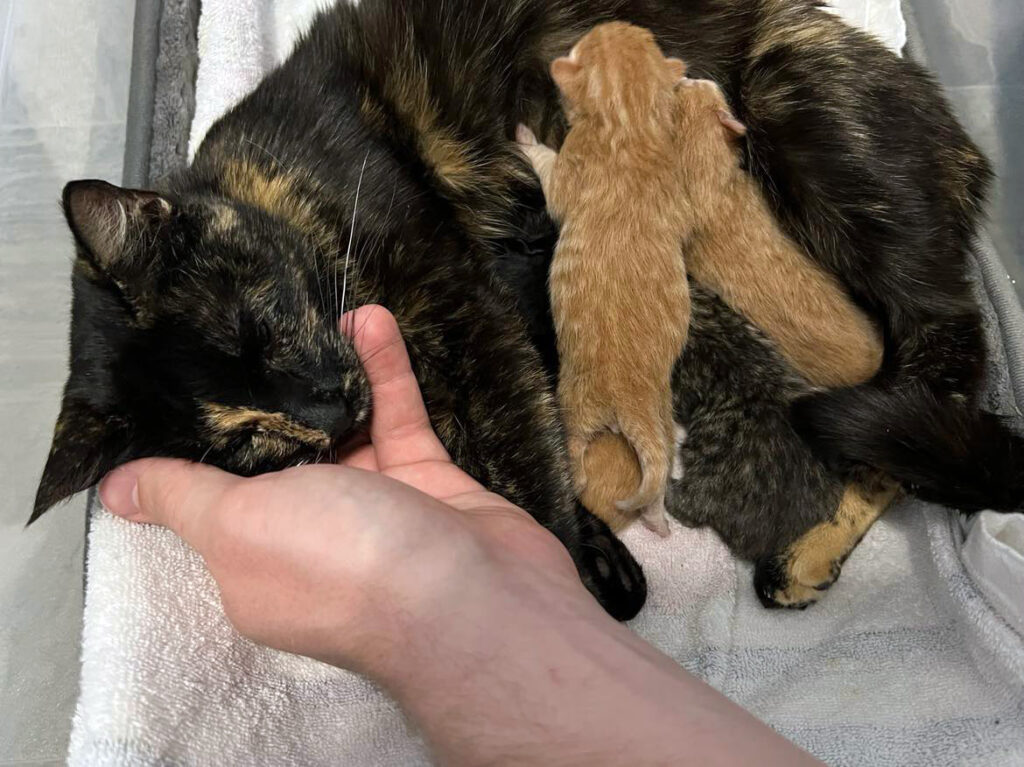 Fuji is a petite girl, and still working on adding weight since her kittens have weaned. We estimate she was born in the Fall of 2021. She has been spayed, microchipped and given age-appropriate vaccines. She tested negative (good) for FeLV and FIV. Her foster family switched to a Litter Robot since she has been with them so we know she very easily adapts to new boxes/litter. Zero bathroom concerns. Her favorite treats are Greenies. She is ready for her Forever Family!
What is her dream home? A person or family who wants to give plenty of attention to her and feed her Greenies. She would be very happy to have a gentle dog friend. She would be ok as an only cat or with another friendly cat. If you want a very pretty calico girl to keep you and your pooch company, Fuji would like you to please fill out an Adoption Application below. Is is ready for her next journey with her Forever Family!
---
Interested in giving a cat a loving Forever Family? Please fill out an Adoption Application. To place a cat on hold, a $50 deposit fee is required. Cats can be placed on hold after your Adoption Application has been approved.
Learn more about The Feline Connection's adoption policies and procedures on our Adopt page.
Learn more about The Feline Connection's adoption policies and procedures on our Adopt page.