The Benson Cat Group
Members: Belvedere & Frenchie, Fatso & Shadow, Houdini, Lucky, Stripes (adopted), Taz (adopted), Tiny & Wolf.
Warm safe loving homes please!

We are a group of 10 kittens and cats who were abandoned by our owner at her Friend's house. We didn't know it at the time, but it was the very best day of our lives. Earlier when we lived with our old owner, strangers had offered to get us to the vet for a checkup and fixing, but sadly our owner turned it down and now we have more mouths to feed. Last summer our old owner packed us in crates and left us in a small car for 10 hours. It was miserable and hot and stuffy. We learned from Friend that there are better ways to live than in near starvation, with no medical care, no vaccines and with the roof caving in! We were very lucky because Friend decided to find us a new home rather than just kicking us out into the cold weather. Now we are guests in Friends' house, where she feeds us, loves us, and does her best to take care of us all, even though she never intended to have so many cats. We have warm, safe, dry places to sleep, plenty of food, and we are very grateful for our hero Friend. However, there are so many of us that we are stressing her elderly cats, and we feel terrible about that.

We all need our own Forever Homes! Each of us is wonderful, and most of us are very friendly and playful. But there are too many of us in this house! We need new homes with a solid roof, warmth, loves, soft places to sleep, scratches, toys, FOOD (we are cats, after all), brushing, treats, hugs and, of course, regular vet checkups. Ok, ok, the vet isn't fun, but deep down inside, we know it's the best thing for us. We will love you anyway when you take us!

Love love me do!

-Tiny, the Benson Cat Group spokescat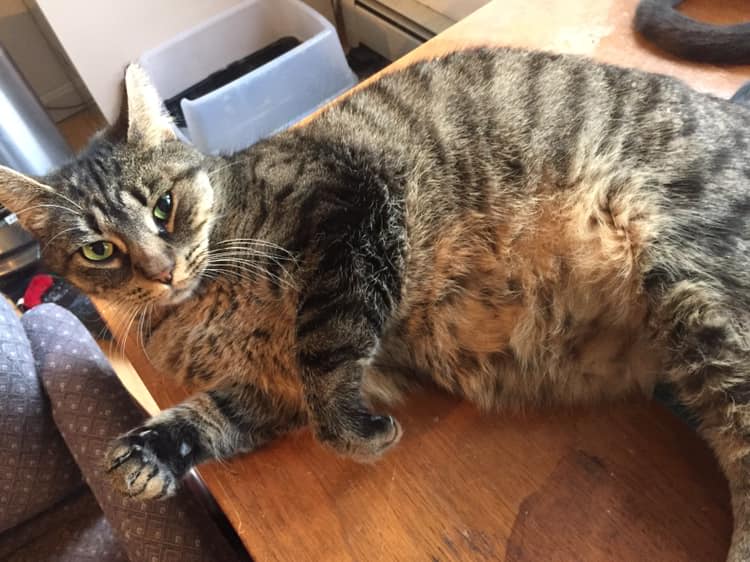 Prior to coming to live with their foster mom, The Benson Cat Group was underfed and lived in a house that was condemned by the state over the 2018 summer. Their previous owners asked to stay with the foster mom, arrived with 10 unexpected cats, and left 3 weeks later, leaving the cats behind. The day they arrived at their foster mom's house, they then spent a terrible ten hours crammed into a small car in the summer heat.

The day the Benson Cat Group cats came to live with their hero and foster mom, was the turning point in each of their lives. Although seemingly tragic to have been abandoned, the situation is actually a blessing in disguise, because they can now find real Forever Homes, where they–as domesticated animals–can get the love and care they need to live healthy, fulfilling cat lives. They need an indoor only homes.
Available now: Fatso & Shadow, Frenchie & Belvedere, Houdini, Wolf and Lucky
Special Cases: Belvedere and Frenchie (bonded pair, Frenchie had hip surgery 1/30/2019 and is recovering), Tiny (extra special boy needing an extra special home. Tiny has some spinal issues and his back legs have different functionality than other cats, and he is mobil)

All of the cats are Felv/FIV negative, and don't show signs of upper respiratory tract infections (colds found commonly in neglected cats). All have been dewormed. They have been spayed or neutered to prevent the ongoing cycle of the misery of mistreated and homeless cats.
Adoption fee is $65 each or as noted, which covers spay/neuter, FVRCP and Rabies vaccines, negative Leukemia and Feline aids test, and deworming. We strongly recommend getting all cats microchipped. If you want a microchip, the Adoption fee is $130. About adoption at The Feline Connection.

Can't adopt but want to help? The adoption fee does not completely cover all costs, so donations are gratefully welcome.

Want a new best friend? Fill out the Adoption Application and then email it to us.
Questions? Please email The Feline Connection