We need $1200 to pay Mr. Whiskers' vet bill
Send a donation by check:
Make the check out to: The Feline Connection PO Box 567, Rutland, VT 05702
---
Please help support a friendly feline named Mr. Whiskers, who has been through a lot. Mr. Whiskers showed up at his advocate's house in dire straits, with a limp and possibly broken leg, a fever, an open wound on his face, and feeling utterly unwell. His left front leg was paralyzed, and more like rubber than anything else. He knuckled under and dragged it. His advocate reached out to The Feline Connection for help, and together, we rescued him, giving him a second chance at life.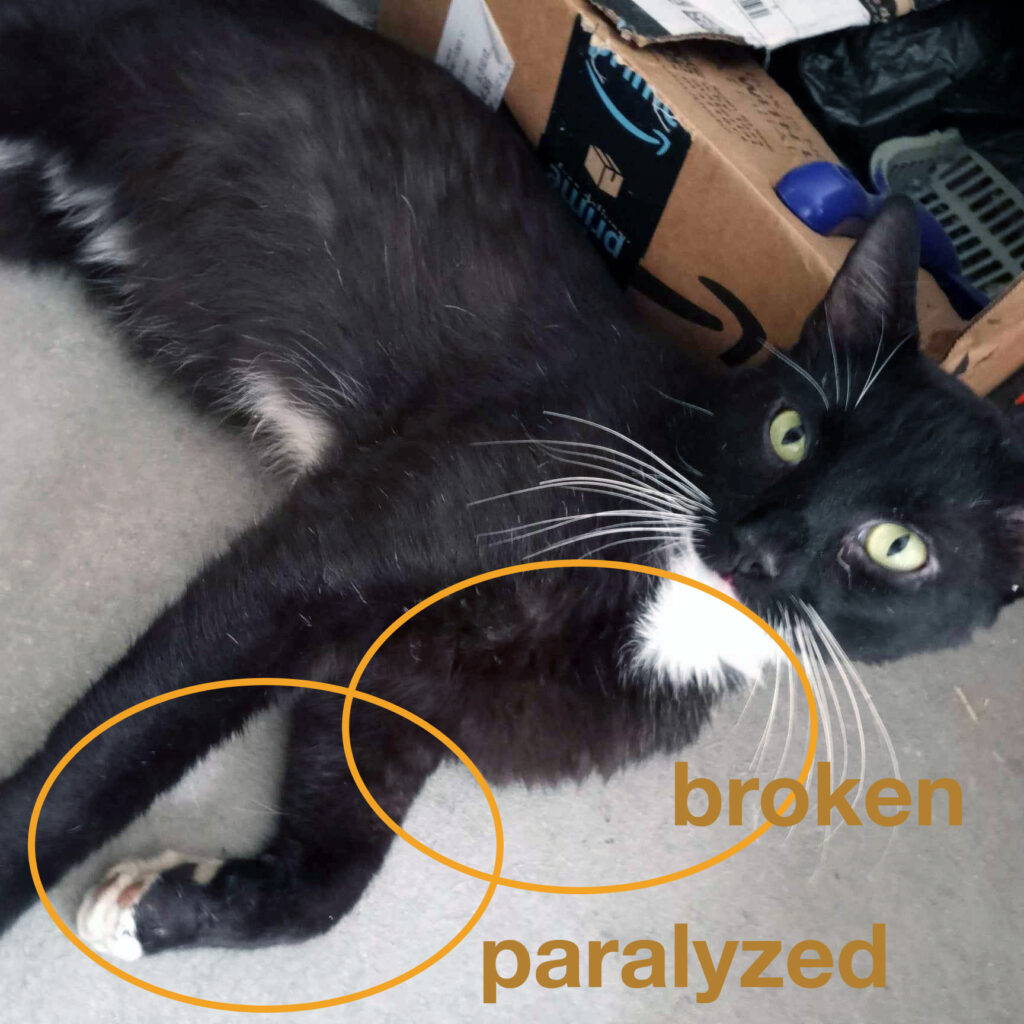 Upon arrival at The Feline Connection, Mr. Whiskers received immediate medical attention, he was stabilized and made as comfortable as possible. Our compassionate veterinarians discovered that his leg had been broken for too long and was beyond repair, causing him significant discomfort. The best course of action for this affectionate and sweet kitty was to amputate the injured leg.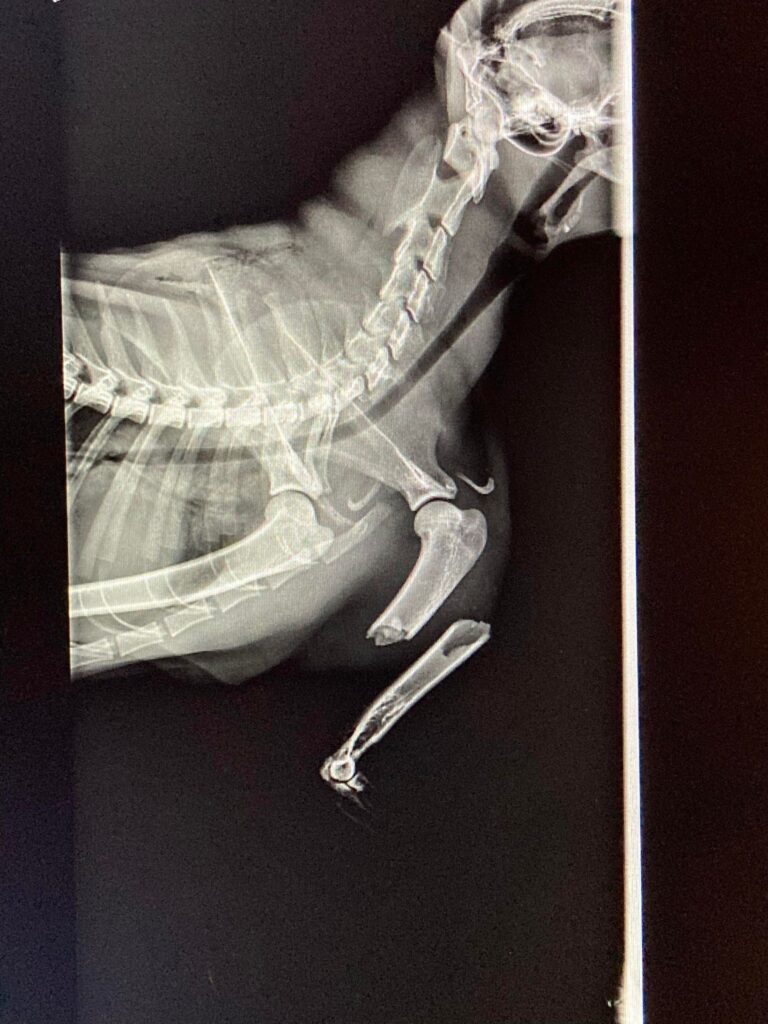 Mr. Whiskers proved to be resilient and strong throughout his recovery process. He was really happy to get out of the vet hospital! Following the surgery, he spent several days recuperating at The Feline Connection's founder's loving home, to monitor his recovery. Despite the initial discomfort, Mr. Whiskers showed remarkable improvement, and he quickly adapted to his new life on three healthy legs, but without the agony. He is getting around just fine.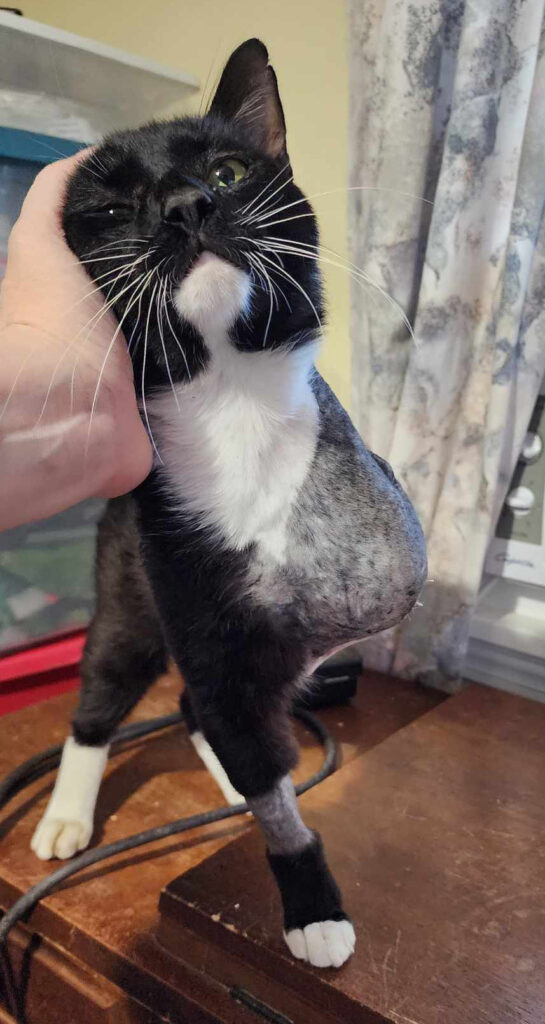 We immensely thank our fantastic veterinarians for their expertise and care. They went above and beyond, charging us as little as possible, living their ongoing dedication to animal welfare.
Now, as Mr. Whiskers returns to his advocate's home to complete his recovery, we face the next challenge: covering his medical bills. The total cost of Mr. Whiskers' treatment and surgery amounts to $1082.
This is where we humbly ask for your support and generosity to raise $1200.
We could not wait until we had funds to get Mr. Whiskers' surgery done. This amazing community has always come through, so we now need support to pay his medical bill. Every contribution, big or small, makes a difference in aiding him and others that come after him in his journey to a pain-free and fulfilling life as a tripod kitty.
How Can You Help?
Donate: Any donation, no matter how small, will directly impact Mr. Whiskers' recovery and future. Your kindness will be cherished and remembered forever.
Spread the Word: Share Mr. Whiskers' story with your family, friends, and social media networks. The more people who know about our cause, the greater the chances of reaching our goal.
Adopt or Foster: If you or someone you know is looking for a feline companion, consider adopting or fostering one of our amazing cats, including Mr. Whiskers, once he is ready for his forever home.
Volunteer: If you're passionate about feline welfare, consider becoming a volunteer at The Feline Connection. Your time and dedication can make a lasting impact on the lives of cats like Mr. Whiskers.
Thank you for being a part of Mr. Whiskers' healing journey and for standing with us in our mission to provide a safe and loving environment for cats in need.

---