By Marisa Valent-Altland and Kirsten Gay
Despite their importance in helping beloved cats home again, many people don't know how microchips work and how they can help cats get home quickly when lost.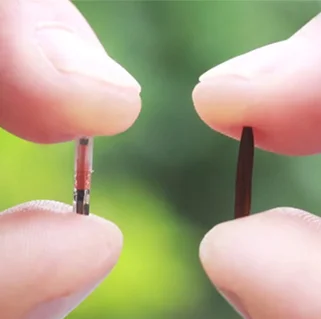 So, what is a pet microchip? A pet microchip is a small computer chip that is implanted under a pet's skin by a veterinarian. This chip contains an identification number that links to a pet parent's address and contact information. When a lost pet is taken to a rescue, shelter, or veterinarian, they are checked immediately for a microchip with a scanner and the rescue uses the identification number to find the pet's owner in the database.
Why should you microchip your pet? Peace of mind! Microchips are the first thing a rescue looks for when a lost pet is surrendered and is the easiest and fastest way to get your pet home to you. Keeping your contact information up to date is very important! It's recommended to put a couple of emergency contacts in with your information in case your pet goes missing when you are out of town.
Did you know The Feline Connection microchips all of its adoptable cats? At adoption, The Feline Connection automatically registers your new cat to the name in your application and the first 90 days of a small annual fee are free. In the case that a cat is not registered by its new owner and is lost, the microchip scan will lead rescuers to The Feline Connection, who can help reunite that pet with its family, or, if we can not locate the family, find a new family for the cat.
This video is a quick overview of implanting, reading and registering microchips by Serria Vet Clinic.
Home Again has some good information on What is a Microchip and how microchips work
---
PREVIOUS POSTS
Post One: Return to Home Challenge with the Feline Connection
NEXT POSTS
Post Three: ID, Please! Why Your Cat Should Have a Collar and ID
Post Four: My Cat Escaped! Now What?
Post Five: Lost but Quickly Found: How to Make the Best Lost Pet Poster
Post Six: Caught in the Web: Lost Pet Websites
Post Seven: The Feline Connection Lost and Found
Post Eight: Local Lost and Found
Post Nine: Help! I Found a Cat Outdoors!
Post 10: Help! I Found a Kitten!